Researchers to address heat-related illnesses on construction sites
October 14, 2022
By Mary Fetzer
UNIVERSITY PARK, Pa. — Intense physical labor, heavy protective gear and environmental conditions place construction workers at risk of heat exposure that can lead to injury, illness or death. To develop a data-driven framework for early detection and assessment of work-related heat stress exposure, the National Institute of Occupational Health and Safety (NIOSH) has awarded Penn State researchers a two-year, $423,000 grant.
"The body's response to heat exposure varies greatly from one person to another," said Houtan Jebelli, assistant professor of architectural engineering and director of the Robotic, Automation, and Intelligent Sensing (RAISe) Lab at Penn State, who is leading the project. "Current measurement techniques for monitoring a person's on-the-job heat stress level are invasive, imprecise and impractical."
Current assessment techniques that consider environmental factors — temperature, humidity and solar radiation — do not capture the physical and physiological characteristics of a worker's response to the thermal environment, according to Jebelli. On the other hand, techniques that use self-assessment to measure a worker's perception of their heat stress level, are subjective and difficult to implement on a construction worksite.
With the new grant, Jebelli said the team plans to develop a worker-centered framework for a wireless sensing system that will take both environmental and human factors into consideration without compromising worker comfort or interfering with the work process.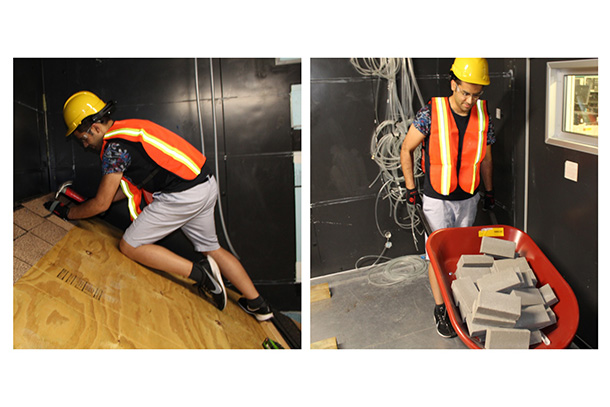 Other contributors to this project include Huanyu "Larry" Cheng, James L. Henderson, Jr. Memorial Associate Professor of Engineering Science and Mechanics; Asok Ray, distinguished professor of mechanical engineering; Jayson Loeffert, associate professor of family medicine; Lacy Alexander, professor of kinesiology; and William Kenney, professor of kinesiology and Marie Underhill Noll Chair in Human Performance, Kinesiology.
MEDIA CONTACT:
College of Engineering Media Relations