Engineers to explore ways to improve rural-urban commutes
December 1, 2022
By Mary Fetzer
UNIVERSITY PARK, Pa. — Penn State researchers have received a planning grant from the Civic Innovation Challenge to study ways to improve rural-urban commutes. The six-month, $50,000 civic-engaged research award is funded by the National Science Foundation in partnership with the Department of Homeland Security and the Department of Energy.
"Our goal is to help commuters in rural, lower-income areas travel to work or school in metropolitan areas," said Vikash Gayah, associate professor of civil and environmental engineering (CEE) at Penn State and principal investigator on the project. Fellow CEE researchers include Ilgin Guler, associate professor, and Andisheh Ranjbari, assistant professor.
This project is focused on people living in rural Perry County who drive single-occupant cars 30 miles to neighboring Dauphin and Cumberland Counties for work or school. The spatial distribution of the commuters' homes makes it difficult to provide shared transit options, such as buses.
The planning grant provides six months for the team to develop solutions to the problem. The solutions will be guided by data gathered from surveying travelers about their commute patterns and travel needs.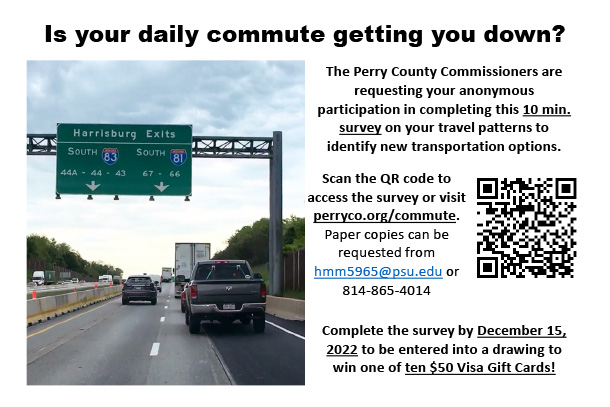 "We will use the survey responses to explore options like the installation of a park-and-ride or UberPool-type flexible transit for rural areas," Gayah said. "The commute may take a little longer, but the societal benefits — fewer vehicles on the road means lower emissions, fuel consumption and congestion — are worth it."
The researchers will work alongside community partners in the Perry, Dauphin and Cumberland Tri-County Region: Perry County Commissioners; Tri-County Regional Planning Commission, which is the local metropolitan transportation organization; Rabbit Transit, also known as Central Pennsylvania Transportation Authority; and Susquehanna Regional Transportation Partnership, which coordinates commuter services in the area.
At the end of the planning grant in March 2023, the team will submit their proposed solution for the next stage of the challenge. If selected, they will receive a one-year, $1 million award to test their proposal.
MEDIA CONTACT:
College of Engineering Media Relations