Remembering Mike Erdman, College of Engineering alumnus, professor
June 15, 2022
By Ashley J. WennersHerron
UNIVERSITY PARK, Pa. — The Penn State College of Engineering community is mourning the loss of Andrew Michael "Mike" Erdman, retired professor of practice, who died on May 29 at the age of 74. His enduring dedication to Penn State and engineering was recognized with the college's highest honor, the Outstanding Engineering Alumni Award, in March.
Erdman, who earned an undergraduate degree in engineering science from Penn State in 1969, was a self-described lifelong advocate for Penn State and spent much of his 34-year career in industry recruiting Penn State engineering graduates to the General Electric Company and Lockheed Martin.
After he earned his bachelor's degree, Erdman and his family moved to the West Coast, where he completed a master of science in mechanical engineering at the University of Southern California and contributed to the development of the Enterprise, NASA's first space shuttle. 
He then moved to Schenectady, New York, where he held leadership positions in research on nuclear propulsion for submarines for Knolls Atomic Power Laboratory, continued his graduate studies at Rensselaer Polytechnic Institute and raised two children, Heather and Greg, with his wife, Donna. They also established a small farm, Nicker Barker Farm, where they raised horses and golden retrievers.
After retiring from KAPL, Erdman returned to Penn State as a professor of practice in ESM.
During this time, he also held several leadership roles for Penn State alumni groups, including service as president of the Penn State Engineering Alumni Society; serving as the founding chair of the Penn State Engineering Science and Mechanics Alumni Society; presiding over the ESM Industrial and Professional Advisory Council; and serving as president of the Centre County Chapter of the Penn State's Alumni Association. He was also the founding adviser for the Penn State Engineering Leadership Society, served on the Penn State Alumni Council and belonged to the Penn State President's Club and the Penn State Alumni Association. Erdman was also a fellow of the American Society of Mechanical Engineers and a senior member of the American Institute of Aeronautics and Astronautics. 
"Mike was my rock — he was one of the first people to welcome me to Penn State in 2002," said Judith Todd, P.B. Breneman Department Head Chair and professor of engineering science and mechanics at Penn State. "When he retired from industry, we welcomed him into ESM as a faculty member. He introduced new design courses for our students, taught leadership skills, became active in humanitarian engineering and served as the Walter L. Robb Director of Engineering Leadership Development. Mike mentored everyone in the most positive, enthusiastic and supportive manner. He made us all feel special and proud to be part of the Penn State family. We will miss him very much."
Housed in the college's School of Engineering Design, Technology, and Professional Programs, the ELD program provides students with an understanding of individual, team and organizational leadership; global competencies and multicultural awareness; and innovation management.
"Mike embodied the program's goals," said Sven Bilén, professor of engineering design, electrical engineering and aerospace engineering, who led SEDTAPP when Erdman directed ELD. "His enthusiasm was infectious: students, faculty and staff alike jumped into the projects Mike coordinated, whether it was here on campus or halfway around the world. As ELD director, Mike grew the program significantly, doubling its undergraduate component and establishing its graduate program and engaging a significant number of online and virtual learners. His philosophy was that the best way to become a leader is by demonstrating leadership, and what better way to learn and practice such skills than with real-world projects that benefit others?"
In addition to organizing mock career fairs, flipping classroom instruction and developing other opportunities for students to hone professional skills, Erdman connected students with people around the world to develop cultural understanding and apply technical skills to present challenges. Every year, Erdman would lead an ELD capstone, during which students would design and build a solution by working virtually with those facing the challenge. They would then take their product to their collaborators for testing and implementation, as well as to learn more about their home.
Over five years, Erdman's students designed and refined a machine to separate baobab tree pulp and seeds, which are processed and used differently. In 2016, they delivered the machine to Tanzania. 
In 2017, Erdman traveled with students to Senegal, where they connected with local farmers and high-ranking government officials to develop and test tools and techniques to better grow moringa, a hardy tree with several nutritional and medicinal benefits.
A year later, Erdman took students to Kenya over spring break to deliver another student-designed and built baobab processor to Amisha Patel, founder of Elekea, an environmental consulting firm in Nairobi. The trip was the culmination of four years of collaboration, sparked when Patel contacted Erdman after she saw a video of the ELD students and faculty working on their other baobab machine. Patel, Erdman and the students worked together to improve the design and eventually produced a machine that processed the vitamin-rich pulp from the baobab tree into a uniform, fine-grain powder.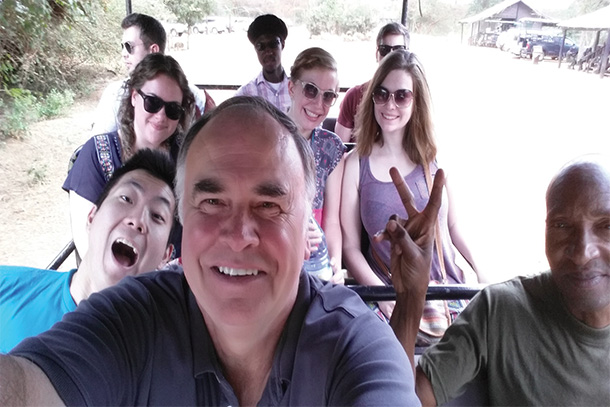 When asked to comment on these projects at the time of the trips, Erdman shared the same approach and motivation that he imparted to his students.
"You need to understand what the users really need and will benefit from and try to find a way to get that to them," Erdman said. "Empathy is a critical part of being a good leader. You need not only to observe but also to put yourself in their position… There's something about producing a product that's of value to people who really need it and then delivering it and seeing the joy on their faces." 
Erdman is survived by his wife, Donna; daughter, Heather, and son, Greg; three sisters, Ellen Nicholas, Ann Safstrom and Trish Stoltzfus; and three grandchildren, Alexander, Cameron and Olivia Erdman. Gifts may be made in his memory to the Mike Erdman Global Leader Fund in the Penn State College of Engineering.
---
A selection of reflections on Mike Erdman from fellow Penn State alumni, including former students:
"Mike was an amazing and kind person, doing just about anything he could to help others. I was better for knowing him for sure. He inspired, encouraged and made others become the best versions of themselves." — Casey Moore (1989, bachelor of science in civil engineering; 2020-22 PSEAS president)
"Mike was such a thoughtful, candid and proactive partner during his whole tenure with the PSEAS board, but I especially appreciated his partnership during our time leading PSEAS together. Always the connector, he would bring new ideas to the table and the right people to help implement them. Mike was a great leader and an awesome human being. While he will be sorely missed by all of us, his positive impact and legacy with Penn State will live on." — Karen Sweeney (1980, bachelor of architectural engineering; 2012-14 PSEAS president, at which time Erdman served as PSEAS vice president)
"Mike was a great person to talk to about life during my time with him as a mentor." — Jillian Woolridge (2010, bachelor of science in engineering science; 2011, master of science in engineering science and mechanics)
"Mike was a great person, a truly great gentleman. He always tried to bring out the best in everybody and looked for the best in everyone." — Barb Faust (1964, bachelor of science in engineering science)
"His passion and commitment to the students was obvious during recruitment exercises for the students." — Brent Wagner (1984, bachelor of science in engineering science)
"Mike never said no. Anytime I asked him to do something for me, he always said, 'I will be there for you, 100%.'" — Rudy Haluza (2016, bachelor of science in engineering science; 2017, master of science in engineering science and mechanics)
MEDIA CONTACT:
College of Engineering Media Relations