Engineering student recognized for success, supporting Hispanic STEM community
Great Minds in STEM honored mechanical engineering undergraduate Randy Blanco
11/17/2021
By Erin Cassidy Hendrick
UNIVERSITY PARK, Pa. — Randy Blanco, a fifth-year student in the Penn State College of Engineering, was named an Outstanding Undergraduate Student Leader in Engineering by Great Minds in STEM.
The organization exists to inspire, motivate and support students underrepresented in science, technology, engineering and mathematics, particularly those who are Hispanic, to pursue successful careers. With more than 800 applicants nationwide, Blanco was chosen for his academic success and his dedication to supporting his community through the Penn State chapters of the Society of Hispanic Professional Engineers and the Multicultural Engineering Program. Blanco was also awarded the Leidos Scholarship, which recognizes excellence in academics and leadership for Hispanic students.
"This award reinforces my drive to push on with making an impact to support and motivate others the same as it was done for me," Blanco said.
He is earning his bachelor's degree in mechanical engineering with a minor in engineering leadership development. He explained that after arriving at Penn State, the strong support system he found with the Society of Hispanic Professional Engineers encouraged his success.
"Being a first-generation Hispanic college student, I was intrinsically pushed to be independent which led to me having to figure out many things on my own," Blanco said. "Finding my familia away from home within the Society of Hispanic Professional Engineers helped shape me to be motivated and gave me direction on how to succeed."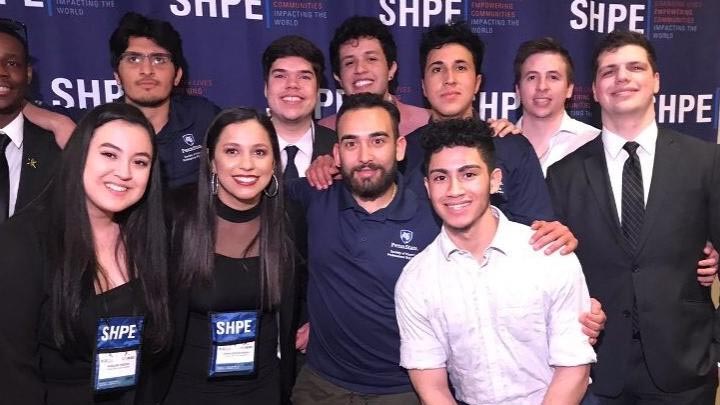 Driven to give back to this community at Penn State, he took on leadership roles in the society, including organizing and directing their annual regional conference and acting as a mentor for students arriving at University Park from the Commonwealth Campuses. In 2020, he became the organization's media director, re-designing the website, running social media channels and fostering community engagement.
During his time at Penn State, Blanco has also completed several internships, including stints at Lockheed Martin and the Applied Research Laboratory and a co-op for two semesters with Toyota. In addition, he earned a place on the Dean's List during four semesters.
He continues to stay busy, as he currently serves as the mentor lead for MEP Mentoring program, intern ambassador and a mechanical engineering intern for Lockheed Martin, R&D engineering intern for the Applied Research Lab and a maker space assistant for the School of Engineering Design, Technology and Professional Programs.
Blanco was recognized on Oct. 21 at the Great Minds in STEM conference, held virtually. After graduating this May, he will work for Lockheed Martin Space as a mechanical engineering associate. He also plans to pursue his master's in systems engineering with space applications. As he continues his academic career, Blanco said he will always appreciate the support of his family and fellow students.
"To this day, I pay it forward by being what they were to me, to incoming students," Blanco said.
MEDIA CONTACT:
College of Engineering Media Relations