Remembering nuclear engineering professor Forrest J. Remick Jr.
November 6, 2023
By Mariah R. Lucas
UNIVERSITY PARK, Pa. — The Penn State College of Engineering community is mourning the loss of Forrest J. Remick Jr., professor emeritus of nuclear engineering, who died Oct. 9 at the age of 92.

Remick was one of the founders of nuclear engineering at Penn State, his career spanning from 1956 to his retirement as Penn State's associate vice president for research in 1993. He served as the third director of the Breazeale Nuclear Reactor Facility from 1959-67.

"Forrest was a passionate, intelligent and wise individual, and he was an irreplaceable mentor for me," said Kenan Ünlü, director of the Radiation Science and Engineering Center, which comprises the nuclear engineering research facilities, including the Breazeale Nuclear Reactor, at Penn State. "I respected him tremendously. We as a department are here today because of the experience he gained in the early years of nuclear engineering and readily passed on."

Remick received a bachelor's degree in mechanical engineering from Penn State in 1955. He went on to graduate from the Oak Ridge School of Reactor Technology in Tennessee and was hired as a research associate in 1956 in what is now the Ken and Mary Alice Lindquist Department of Nuclear Engineering, which was a newly formed department at the time.

While working at Penn State, Remick earned a master's degree in 1958 and a doctorate in 1963 in mechanical engineering. As a graduate student, Remick taught a reactor physics course, developed and taught a reactor laboratory course and started his position as acting director of the reactor facility, which had been dedicated just years earlier in 1955.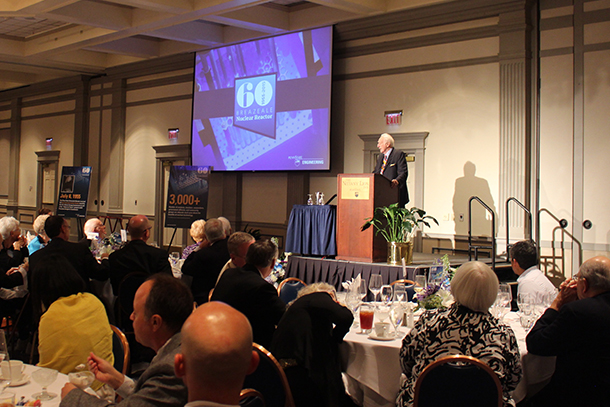 After graduating with his doctorate in 1963, Remick was named director of the reactor facility, director of the Curtiss Wright Nuclear Research Laboratory and associate professor of nuclear engineering.
"I was fortunate to have Dr. Remick as my adviser as an undergraduate in nuclear engineering in the 1970s," said Tom Litzinger, emeritus professor of mechanical engineering and retired assistant dean for educational innovation, accreditation and digital learning at Penn State. "It was amazing that he was advising students with his high level of administrative responsibility. I can still remember walking to his office in Old Main to meet with him. I was also fortunate to come to call him a colleague after I returned to Penn State in the '80s to join the mechanical engineering faculty."
Arthur Motta, professor and former graduate program chair of nuclear engineering, echoed Litzinger's comments.
"Forrest was a wonderful guy, always willing to engage with Penn State nuclear engineering students and faculty with his encouraging words, wise advice, humble demeanor, good humor
and excellent memory," Motta said. "He is one of the real pioneers of nuclear engineering at Penn State."
Over the years, Remick held other prominent positions at Penn State, including director of the Institute for Science and Engineering, director of Intercollege Research Programs in the Office of the University Vice President for Research and coordinator of University Energy Programs.
Outside of academia, Remick served in various capacities in the nuclear energy field, including as member of the U.S. Nuclear Regulatory Commission (NRC), nominated by former President George H. W. Bush; administrative judge with the NRC's Atomic Safety and Licensing Board; director of the NRC Office of Policy Evaluation; chief of the training section in the Department of Technical Assistance, International Atomic Energy Agency, in Vienna, Austria; member of the Governor's Energy Council of the Commonwealth of Pennsylvania; and member of the National Nuclear Accrediting Board. He also served on various scientific and nuclear safety advisory committees for U.S. Department of Energy laboratories.
"I knew Forrest dating from 1960 when I first came to Penn State," said Ward Diethorn, professor emeritus of nuclear engineering. "I read his obituary, and it was wonderfully done. He obviously didn't praise himself and it impressed me very much. He had a lot of accomplishments, and they were well deserved."
Remick, the son of Forrest and Ruth, was married to Soon and father to Beth and Eric. He had seven grandchildren and five great-grandchildren. Remick's obituary, which he penned as a final epistle to his loved ones, can be found
here
.
MEDIA CONTACT:
College of Engineering Media Relations