Capstone design projects challenge students to apply knowledge and skills
November 10, 2023
UNIVERSITY PARK, Pa. — Each semester, teams of engineering students come together to tackle real-world problems sponsored by clients. Known as capstone projects, these culminating ventures challenge students to apply the knowledge and skills acquired during their undergraduate education to solve complex engineering problems. The Learning Factory provides a unique opportunity for students to partner with industry sponsors with a shared goal — to educate the next generation of world-class engineers using state-of-the-art facilities for design, prototyping and fabrication. The learning experience provides students with the opportunity to get involved with sophisticated engineering design challenges and participating companies with fresh ideas to help solve real design problems.   
With more than 65 projects sponsored by various companies, the following projects are just a sampling of the capstone work currently underway during the fall 2023 semester. 
UAV Object Detection and Avoidance using Machine Learning, AI Phase 2 and Flight Demonstration — Boeing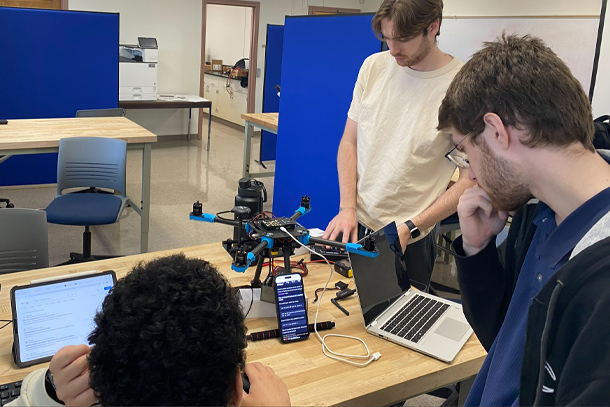 A continuation of the spring 2023 project by the same name, this project, advised by Dave Cubanski, associate teaching professor of electrical engineering, will focus on a technology demonstration for an unmanned aerial vehicle (UAV) that uses a camera-based object detection system to detect and avoid air-born obstacles. The fall 2023 team will further enhance the vision system, improve obstacle detection and range estimation, integrate obstacle avoidance capability into the flight control algorithms, and conduct a flight demonstration of the UAV capabilities as a complete system. Student team members include Brett Volker, Parth Sureshbhai Ahir, Eduardo Casiano, Seyed Sam Naemi Torshize, Tyler Holman, Mohammad Nur Amir Mohd Azmin, Curtis Young, Brady Maitoza and Caleb Houser.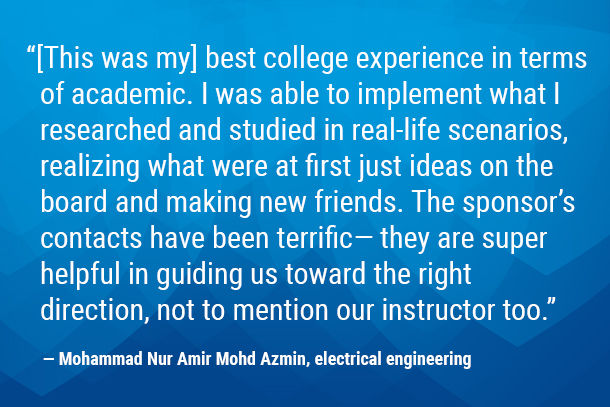 ---
Variable Wing Glider

—

DG Group Holdings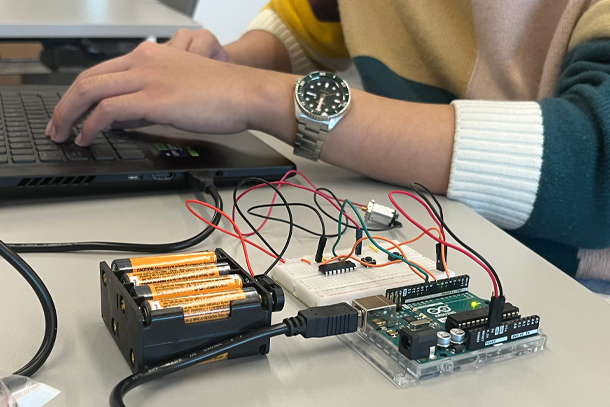 Students on the Variable Wing Glider team will create and model a variable wing glider that exits and launches from the back of a transport plane. Required specifications include variable wing capabilities that allow for faster and longer flight and landing safely at a slower speed and accommodations for one pilot in a horizontal position lying on top, ideally for aerodynamic purposes. Student team members include Joseph Ibarra, Huidong Li, Drew Wenacur and James Elkjer and are advised by Jean-Michel Mongeau, assistant professor of mechanical engineering.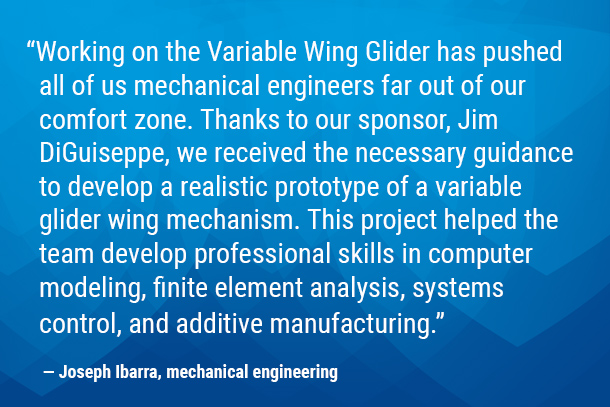 ---
Steel Forming Machine

—

Rockland Manufacturing Company, Inc.

Students will design a press and/or machine that can form various components of high strength steel in a rapid and repeatable fashion. The team will consider operating costs, the practicality of manufacturing the design, serviceability of the design and more. Students will determine the forces and best method needed to shape the material to the desired shape. At the end of the project, the team will provide the company with a drawing, prototype and test results that show a fully functioning machine. Advised by Chao-Yang Wang, William E. Diefenderfer Professor of Mechanical Engineering, student team members include Andrew Arbanas, Benjamin Starkman, Dengzhe Zhang, Mary Altmire and Zackary Crider.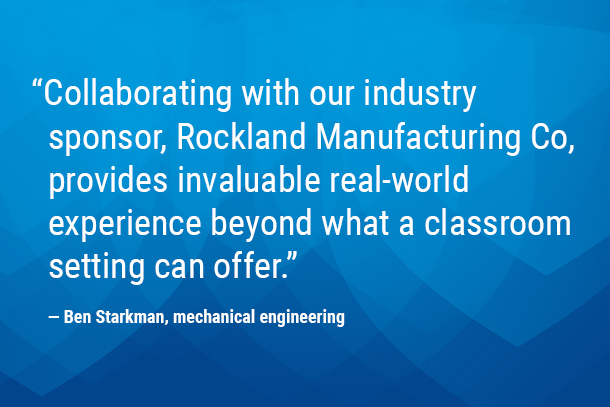 MEDIA CONTACT:
College of Engineering Media Relations