Graduate students win best paper awards at international acoustics conference
March 6, 2023
By Mary Fetzer
UNIVERSITY PARK, Pa. — Four Penn State graduate students won best student paper awards at recent international meetings of the Acoustical Society of America (ASA). According to its website, the ASA holds two meetings each year at various locations in the United States and Canada. Between 850 and 1,100 papers and posters are presented at each meeting.
At the 183rd meeting of the ASA in December 2022 in Nashville, Tennessee, Olivia Heui Young Park, a doctoral student in acoustics, and Daniel Giraldo Guzmán, a doctoral candidate in mechanical engineering, were each recognized for their work.
Park was awarded first place by the Architectural Acoustics Technical Committee. She presented "Assessing cognitive effects of transportation noise on office workers with electroencephalography and performance," which explored the effects of different acoustic conditions in an office setting. Park's adviser, Michelle Vigeant-Haas, associate professor acoustics and architectural engineering, served as the project investigator. Funding was provided by Resound US, an audio solutions firm in Bloomington, Minnesota, and its vice president of research, Andrew Dittberner.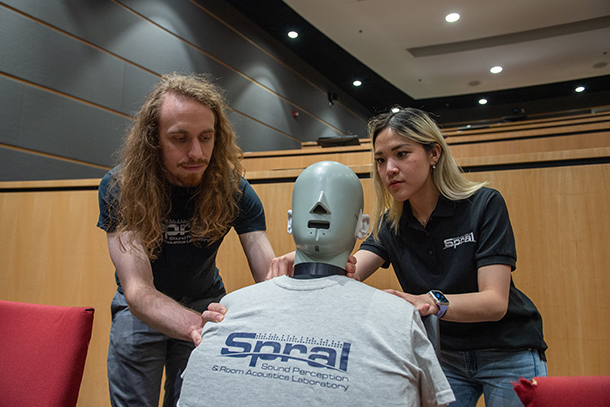 Giraldo won a best student paper award from the Structural Acoustics and Vibrations Technical Committee student competition for his presentation, "Topology optimization design of elastodynamic metasurfaces based on resonance gaps and antiresonance matching." Giraldo collaborated with Lalith Pillarisetti, doctoral candidate in engineering science and mechanics; Clifford Lissenden and Parisa Shokouhi, professors of engineering science and mechanics; and Mary Frecker, head of mechanical engineering, to explore the control of surface waves, such as those found in earthquakes, by designing resonators that prevent the propagation of these waves. This project aimed to generate fundamental knowledge for next-generation filters and sensors, vibration barriers or seismic and explosive shields for vulnerable structures or towns.
At the 182nd meeting of the ASA held in May 2022 in Denver, Zane Rusk, a doctoral candidate in architectural engineering, and Kyle Dalton, a doctoral student of acoustics, were recognized for their work.
Rusk was awarded first place by the Architectural Acoustics Technical Committee. Rusk presented "Spatial room impulse response (SRIR) measurement and post-processing for virtual reproduction of a stereo sound system," describing how he measured and characterized the spatial sound field that a person might experience when they are in a living room listening to a stereo sound system. The measurements and subsequent processing allowed later research to create a virtual sound system that would reproduce the appropriate sound field regardless of what played virtually through the speakers. Rusk is the chair of the ASA student council. Vigeant-Haas is his adviser.
Dalton won a 2022 ASA Proceedings of Meetings on Acoustics student paper competition. Dalton presented his paper, "Simulating elastic targets for sonar algorithm development." He collaborated with Thomas Blandford and Daniel Brown, assistant research professors of acoustics, to propose an algorithm to produce better sonar images of unexploded ordinances that are buried under water and sediment. Read more about how Dalton's research could improve efforts to locate and recover underwater UXOs here.
MEDIA CONTACT:
College of Engineering Media Relations