NASA-funded student team builds microwave system to smelt metal on the moon
June 12, 2023
By Mariah R. Lucas
UNIVERSITY PARK, Pa. — As part of its Artemis mission to achieve a more permanent presence on the moon, NASA annually solicits the help of engineering students around the country through its Breakthrough, Innovative and Game-Changing (BIG) Idea Challenge. 
A team of undergraduate students in Penn State's Student Space Programs Laboratory (SSPL), housed in the College of Engineering's School of Electrical Engineering and Computer Science, was one of seven university teams selected to receive funding from NASA to build a prototype in the BIG Idea Challenge. The Penn State team received $130,000.
This year, the challenge is titled "Lunar Forge: Producing Metal Products on the Moon." To create structures that astronauts can inhabit for longer durations of time, scientists need to create and process construction materials, like concrete and metal, directly on the moon using lunar-sourced materials, according to NASA. 
The SSPL is developing a portable microwave system that could ultimately be transported to the moon to smelt ilmenite, a common metal found in lunar sediment, to use in building permanent structures. The team titled their proposal "Smelting with Microwave Energy for Lunar Technologies System for In-Situ Resource Processing," or SMELT for short.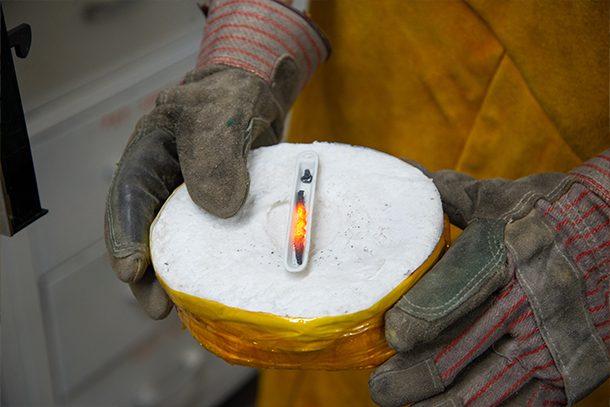 "I came up with the initial idea, but the project is completely student led and driven," said Sven Bilén, director of SSPL and professor of engineering design, electrical engineering and aerospace engineering. "By working directly with NASA engineers to implement their project, the students are getting exposed to NASA's mission and priorities for Artemis. They are challenged to learn design and building techniques outside of the classroom, which are often graduate-level concepts." 
The team aims to improve upon the common household microwave to better control the power output, redesign the heating chamber to withstand longer heating intervals, and resize the system to best meet the needs of the Artemis project. Ultimately, the SMELT device should direct microwave radiation into a chamber containing the ilmenite, heating it to a critical temperature so that it melts together.
"Currently, the project is in the first of four design phases, during which we look to make major changes to the surface geometry and surface material of our microwave," said Jack Pierce, SMELT team leader and a rising senior in aerospace engineering. "By using different materials and shapes to direct the microwaves, we are able to focus all of the energy into one area and reach our test material's melting point to produce a molten mass."
The three other project phases are: power and time optimization; environmental testing, or making sure the device can operate on the moon; and scalability testing, or getting the device ready to produce metal at an industrial scale.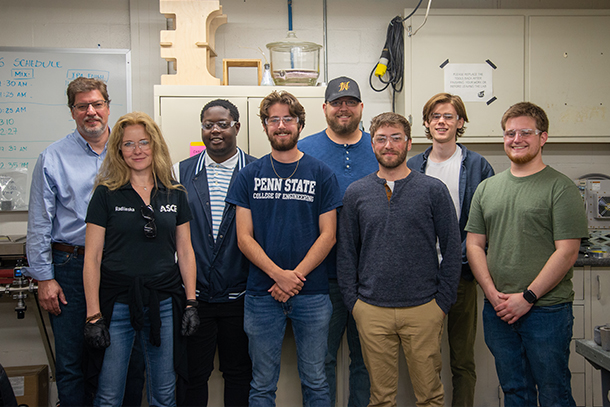 "It's an interesting position we're in because the idea of using a microwave to melt metals isn't exactly new — you can find plenty of people doing it on YouTube," said Alex Baumgartle, a SMELT team leader and rising senior in electrical engineering. "But sending it to the moon means that we have additional constraints in order to maximize its energy efficiency while minimizing the overall weight and size of the system." 
Aleksandra Radlińska, associate professor of civil engineering, is co-advising the student group alongside Bilén. An expert in materials engineering for terrestrial and extraterrestrial applications, Radlińska has sent concrete samples to the International Space Station for testing in past research. 
"With one-sixth of the gravity of Earth, physics happen differently on the moon, which makes for a great challenge when trying to develop construction materials for the moon here on Earth," Radlińska said. "We will be applying the latest materials research principles to this project in order to create a viable smelting technique and device that NASA can then test in space."  
Work on the project will continue over the summer and into the fall as the team develops a working prototype. Members of the team will travel to the 2023 BIG Idea Competition Forum in Cleveland, Ohio, in November to present their prototype and compete for honorary awards. 
In addition to Pierce and Bumgartle, Patrick Moore, a rising senior in aerospace engineering, also serves as a co-team leader. The other SMELT team members include Colton Washburn, Wicharyut Lertkittiamornkul, Marissa Tommarello and Craig Oluoch, undergraduates in aerospace engineering; Samuel Highfield, Chiranjeev Singh and Joseph Broniszewski, undergraduates in mechanical engineering; and James Connelley, an undergraduate in computer science. Madison Hungerford, who recently graduated with a bachelor of science in aerospace engineering, also participated on the team.  
MEDIA CONTACT:
College of Engineering Media Relations