Aerospace engineering student wins international technical paper competition
April 10, 2023
By Mary Fetzer
UNIVERSITY PARK, Pa. — Jessica Beyer, a graduate student of aerospace engineering at Penn State, is the overall winner of this year's Vertical Flight Society's (VFS) Robert L. Lichten Award. She will be recognized during the society's 79th Annual Forum & Technology Display in West Palm Beach, Florida, on May 18. 
Beyer, a second-year master's degree student, won the VFS's Mideast U.S. Region Lichten Competition for her paper, "Individual Blade Pitch Control for Vibration Reduction of Lift-Offset Coaxial Rotor Vehicles with Auxiliary Propulsion." She was then selected as the overall winner among 10 regional awardees from around the world.  
Beyer is the first Penn State student to win the overall Lichten award, which recognizes excellence from first-time technical paper presenters, according to the VFS website. Her graduate research focuses on employing GRCAS, a comprehensive rotorcraft analysis system, to understand the potential of active vibration control for compound helicopters.  
"Jessica is a truly remarkable graduate student," said Edward Smith, professor of aerospace engineering at Penn State and Beyer's adviser. "She has come up-to-speed on a complicated project and works efficiently with technical experts in government, industry and academia to make meaningful and timely contributions to the state-of-the-art developments in high-speed rotorcraft vibration control."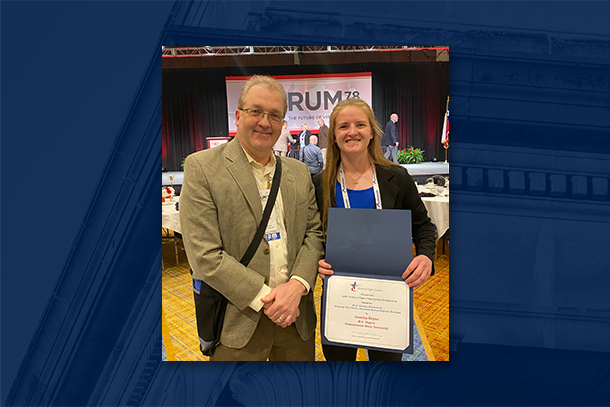 In May 2022, Beyer won the Barnes McCormick Memorial Scholarship from the VFS. The scholarship was created in honor of the late Boeing Professor Emeritus Barnes Warnock McCormick, Jr., an alumnus and long-time faculty member of the Department of Aerospace Engineering at Penn State.  
"Jessica used the prize money from the McCormick scholarship for helicopter pilot training," Smith said. "She made regular trips to Lancaster for private lessons while simultaneously acing her graduate courses and progressing on her research."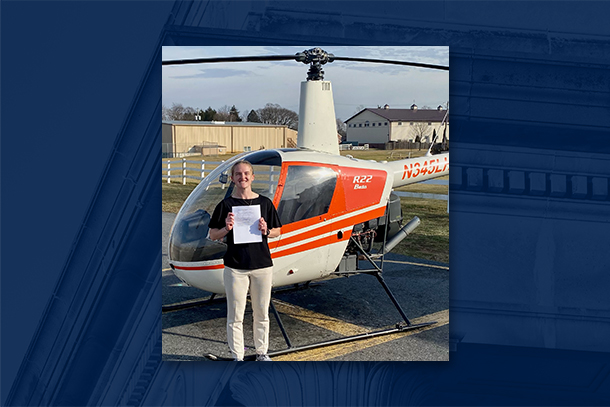 Beyer earned her bachelor's degree in aeronautical engineering from the U.S. Air Force Academy and plans to attend Air Force pilot training after graduating from Penn State. 
"I am very grateful for the research and educational opportunities provided by the Penn State Vertical Lift Research Center of Excellence," Beyer said. "There are so many outstanding and innovative projects going on here, and I am delighted to be able to share just one of them with the vertical flight community and the engineering community as a whole." 
The Vertical Flight Society, founded as the American Helicopter Society in 1943, is the global non-profit society for engineers, scientists and others working on vertical flight technology, according to its website. The Robert L. Lichten Award was established in 1976 in honor of the rotary-wing engineer who served as the society's president from 1965 to 1966. 
MEDIA CONTACT:
College of Engineering Media Relations