Can light ease some symptoms in nursing home residents with dementia?
Penn State nursing and engineering researchers partner to investigate smart lighting interventions
November 10, 2022
By Mary Fetzer
UNIVERSITY PARK, Pa. — Researchers from Penn State's Ross and Carol Nese College of Nursing and the College of Engineering have received a 20-month, $411,982 grant from the National Institute on Aging to study the effects of ambient lighting interventions in nursing homes. The collaborative project will focus on nursing home residents with Alzheimer's disease and related dementias. 
While memory loss is typically one of the first warning signs of dementia, people with the condition also frequently experience at least one other behavioral or psychological symptoms of dementia, such as agitation, wandering, apathy or depression. 
Some of these symptoms can stem from the disruption of circadian rhythm, which is a degenerative change often experienced by people with dementia, said project co-lead Ying Ling Jao, associate professor of nursing. She noted that prior research suggests interior daylight conditions in nursing homes do not expose residents to sufficient sunlight to stimulate circadian rhythm. As such, Jao said, interventions using bright lights may offer positive effects. 
"Lighting interventions provide a non-invasive, non-pharmacological treatment for the behavioral and psychological symptoms of dementia and have been widely accepted and applied in nursing homes to reduce agitation and other symptoms," Jao said. "But traditional lighting intervention methods have fundamental gaps that must be addressed." 
Current lighting intervention methods use desktop light boxes that require the person to sit and keep their eyes oriented toward a bright light for one or two hours. According to Jao, this approach can add considerably to the workload of nursing home staff who deliver and monitor the individual light box interventions to residents. 
A recent review of the available scientific literature, led by Jao, indicated that ambient lighting interventions are an efficient alternative to traditional light-box interventions. Ambient lighting interventions, which are built into the infrastructure of the room and do not require the same burdensome delivery and monitoring, appear to offer the same positive effects on the behavioral and psychological symptoms of dementia as traditional approaches. Daylight also helps, according to the researchers, but previous studies have not considered natural lighting and ambient bright light together.  
"Daylight intensity and spectral compositions vary at different times, seasons and weather conditions, and the variety becomes even more complicated when considering the diversity of architectural windows," said project co-lead Julian Wang, associate professor of architectural engineering. "Incorporating such daylight variations is one major challenge when developing ambient lighting conditions. We are interested in the potential benefits of designing or retrofitting nursing homes to seamlessly provide lighting interventions via smart ambient lighting." 
The researchers will use the grant to develop a more efficient and comprehensive lighting intervention method called smart ambient bright light (SABL). 
The proposed SABL will provide auto-controlled, consistent indoor lighting that incorporates natural daylight. A pre-programmed 24-hour control schedule will mimic the natural bright-dark cycle and automatically adjust lights to accommodate daylight variations and maximize the lighting intervention. The programmed controls will adjust automatically, minimizing the need for nursing home staff to maintain them. 
"This SABL system will incorporate customized light sensors in the near-window zone and feed the monitored daylight information to the electrical lighting systems for intensity and spectrum tuning," Wang said. "To develop this loop, we will also need to characterize circadian radiometric quantities — electromagnetic radiation, including visible light — transmitted through windows under different conditions."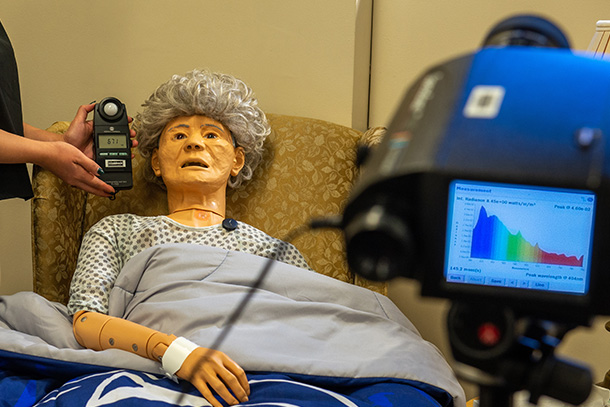 The researchers will place SABL systems in the resident bedrooms and designated common areas of two Pennsylvania nursing homes to evaluate the acceptability, feasibility and appropriateness of the intervention. Each participating nursing home resident will wear a personal light monitor to measure how much light they receive from the SABL system.  
In addition to calculating cost and time to install and maintain SABL, the researchers will survey and individually interview all participants, including residents and nursing home employees, to learn about their experience with the system.  
"We plan to comprehensively evaluate the fidelity of SABL delivery," Wang said. "Ultimately, we aim to establish evidence-based implementation strategies and the best design for SABL to reduce agitation for persons with dementia living in nursing homes." 
According to Sez Atamturktur-Russcher, Harry and Arlene Schell Professor and head of the Department of Architectural Engineering, the study demonstrates the power of multidisciplinary collaboration. 
"Ensuring a high-quality indoor environment is critically important for the performance and well-being of building occupants," Atamturktur-Russcher said. "This study on circadian rhythm, co-led by Dr. Wang and Dr. Jao, is very timely and stands to be highly impactful for practicing engineers and those who work or live in residential care facilities." 
Other members of the research team include Marie Boltz, professor of nursing, and Diane Berish, assistant research professor of nursing, both from Penn State, and Margaret Calkins, president of Innovative Designs in Environments for an Aging Society. 
MEDIA CONTACT:
College of Engineering Media Relations