Students engineer solutions to airport aggravations
Penn State teams place second, third in national engineering competition
August 29, 2022
By Mariah Chuprinski
UNIVERSITY PARK, Pa. — Air travel is back to pre-pandemic levels, according to the Transportation Security Administration, along with its traditional inconveniences. To address these common frustrations and failures, the Airport Cooperative Research Program tasks students across the country with designing innovative solutions in an annual competition sponsored by the Transportation Research Board of the National Academies of Sciences, Engineering, and Medicine. This year, two Penn State College of Engineering teams earned top rankings. 
Comprising students who took ENGR 408: Leadership Principles in the college's School of Engineering Design, Technology, and Professional Programs (SEDTAPP) in the 2021-22 academic year, one team placed second in the Airport Management and Planning (AMP) category for its design, "Augmenting Passenger Throughput in Airport Terminals," while another placed third in the Airport Environmental Interactions (AEI) category for its design, "Environmental Interactions Stormwater Management." The teams received $2,000 and $1,000, respectively, to split among group members. 
"Each member is responsible for leading the team for two weeks over the semester, in one of the five stages of the design process, which are to ask questions and identify the problem, research the problem, brainstorm solutions, create a prototype, and test and analyze the solution," said Meg Handley, associate teaching professor in SEDTAPP and instructor and faculty coordinator for ENGR 408.
Course instructors also invite SEDTAPP alumni and industry experts to mentor ENGR 408 teams regarding their technical solution and project plan, as well as foster their technical and professional skills throughout the project. Teams also are paired with a "coach," a student currently taking ENGR 410: Coaching Skills and Practice for Engineering Leaders, who provides feedback and facilitates reflection on leadership and team dynamics while developing their own coaching skills.
"The organization of the course provides the necessary learning experience to foster leadership development," Handley said. "Students build knowledge and practice leading a technical team, receive feedback on their leadership behaviors, and reflect on their leadership style and effectiveness."  
The students put together a design package detailing their solution to improve safety and efficiency, environmental interactions, operation and maintenance, or airport management and planning. Each package included a summary, problem statement and background, a literature review, a problem-solving approach to the design challenge, a safety risk assessment, and a description of the team's design and findings.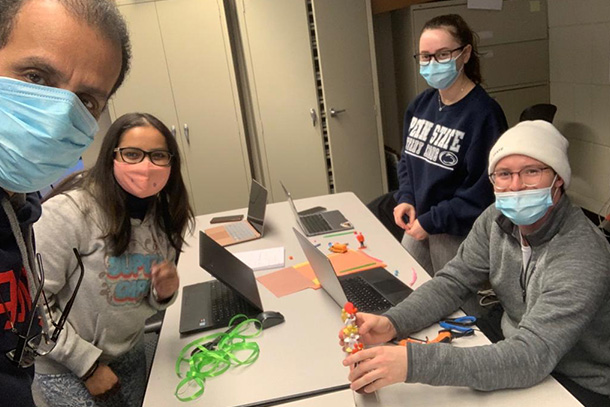 The AMP team focused its solution on safety and efficiency issues caused by long waiting times at airports, according to team member Joseph Mast, a second-year Schreyer Honors Scholar who plans to major in industrial engineering.
"Long waits in airports became the focal point of our team's project, as our goal was to decrease the number of missed flights and the time it takes to check into an airport, benefiting both airports and airlines," Mast said. "Using one of our team member's strengths in programming and game design, we created a simulation to demonstrate the impact of creating recommended arrival times for passengers, who would then be incentivized or fined by airports based on when they arrive."
Joshua Famous, a computer science major, and Ella DeKunder, Jacob Zeigler and Michael Sheppard, all mechanical engineering majors, participated alongside Mast. 
The AEI team devised a solution to collect stormwater runoff and snow, puddles and piles of which can inhibit the normal operation of runways and taxiways. The team used the University Park Airport, which does not have an on-site collection system and sources its water from a municipality, as a case study.
"We discovered a way to collect runoff with a gravity-based, covered open channel system, which is an improved drainage ditch system," said John Boulos, a Penn State graduate student in engineering leadership and innovation management. "We also argued that a wastewater treatment site should be built on airport property in order to save money and reuse the purified water on site."
Joseph Pecaitis, a mechanical engineering major, Arianna Parisi, a biomedical engineering major, and Aatika Sinha, a graduate student in engineering leadership and innovation management and business analytics, participated alongside Boulos.
ENGR 408 is a required course for undergraduates pursuing a minor in SEDTAPP's Engineering Leadership Development (ELD) program, as well as for graduate students completing a master of engineering in the Engineering Leadership and Innovation Management program.
In addition to Handley, Steve Betza, SEDTAPP professor of practice; Paul Meister, SEDTAPP lecturer; and Paul Mittan, director of the ELD minor and professor of practice, serve as instructors for ENGR 408.
MEDIA CONTACT:
College of Engineering Media Relations