Interim associate vice president for research named
Phillip Savage will also serve as interim director of strategic initiatives
July 26, 2022
By Ashley WennersHerron
UNIVERSITY PARK, Pa. — Phillip Savage, currently the head of Penn State Department of Chemical Engineering in the College of Engineering, has been named interim associate vice president for research and director of strategic initiatives in the Penn State Office of the Senior Vice President for Research (OSVPR), effective Aug. 22.  
Savage will step into the interim role as the University launches a national search to replace Shashank Priya, the current associate vice president for research.  
As interim associate vice president for research, Savage will support the mission of OSVPR, administering and promoting the University's research enterprise and driving strategy to further global collaboration opportunities for solving grand challenges, according to Lora Weiss, senior vice president for research at Penn State. Savage will also facilitate teams and strategies for large-scale interdisciplinary research programs, competitions and funding opportunities.  
"Phil's experience will be invaluable to OSVPR during the transition as Shashank takes his next career step," Weiss said. "Phil has an exceptional combination of impressive research accomplishments and seasoned leadership skills, and we are excited to welcome him in this role. We also thank Shashank for his service to Penn State."  
Savage earned his bachelor's degree in chemical engineering from Penn State in 1982, after which he earned his master's degree and doctorate, both in chemical engineering, from the University of Delaware. He was hired as an assistant professor at the University of Michigan, where he rose through the ranks, and was eventually named Arthur F. Thurnau Professor Emeritus. He joined Penn State as the head and Walter L. Robb Family Chair of chemical engineering in 2014.  
"I am looking forward to playing a larger role in advancing the University's research mission, supporting faculty teams competing for significant funding and implementing the OSVPR strategic plan," Savage said. "I am thankful that the Department of Chemical Engineering will be in the very capable hands of Mike Janik, who has a good grasp on how the department operates and has leadership experience from overseeing both our graduate and undergraduate programs."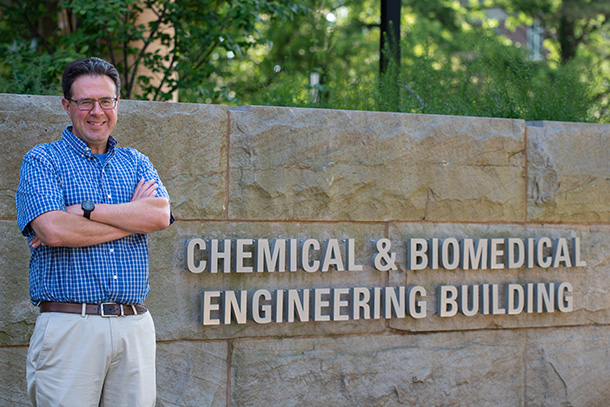 Janik, associate department head and professor of chemical engineering, will serve as acting department head, effective Aug. 22. Stephanie Velegol, teaching professor of chemical engineering, will take over Janik's current responsibilities as associate head and oversee the undergraduate program during this temporary transition.   
"Phil has had a tremendous impact on our department, growing faculty by at least 35% among other accomplishments," Janik said. "We look forward to his return as department head."  
In addition to his leadership roles at Penn State, Savage also researches reaction kinetics, pathways and mechanisms, with a current focus on hydrothermal conversion of biomass to fuels and chemical recycling of waste plastics. He has published more than 250 research articles in archival journals and given more than 120 invited lectures at other universities and international symposia. He currently serves as the editor-in-chief of Industrial & Engineering Chemistry Research, a journal published by the American Chemical Society (ACS), of which Savage is a fellow. He received the inaugural Energy & Fuels Excellence in Publication Award from ACS in 2015.
Savage also is a fellow of AIChE, formerly the American Institute of Chemical Engineers, from which he received the 2022 R.H. Wilhelm Award, the 2020 Lawrence K. Cecil Award (from the environmental division) and the 2014 Research Excellence Award (from the sustainable engineering forum). He has mentored more than 45 doctoral students, nine of whom were National Science Foundation or Environmental Protection Agency Science to Achieve Results graduate fellows.  
MEDIA CONTACT:
College of Engineering Media Relations