Interdisciplinary Penn State team places second in coastal design competition
1/27/2022
By Katherine Dietrich
UNIVERSITY PARK, Pa. — An interdisciplinary team of Penn State landscape architecture and civil engineering students was awarded second place in the biennial Coastal and Estuarine Research Federation (CERF) Design Competition, which focused on coastal resilience planning in Hampton, Virginia.
Penn State represented one of six teams that entered the competition, which had the theme of "Celebrating Our Past, Charting Our Future."
The team was led by Peter Stempel, associate professor of landscape architecture and a researcher in the Stuckeman School's Hamer Center for Community Design, along with Andy Cole, professor of landscape architecture and director of the E+D: Ecology plus Design research initiative, and Caitlin Grady, assistant professor of civil engineering.
Stempel taught a studio course during the spring 2021 semester in which he introduced the competition theme of resilience to students. After the studio ended, the majority of Stempel's students chose to continue with their work and enter in the competition.
"Our project was very much framed as an investigation. I posed a question to the students that was centered around how resilience planning can better engage equity and justice. That's a major gap in resilience planning right now, so our work was uniquely framed around that," said Stempel. "It required the students to explore and develop new ideas. We did that throughout the semester. After the semester, I created a series of online documents and then collaborated with students remotely, essentially from April all the way up until the competition submission in October."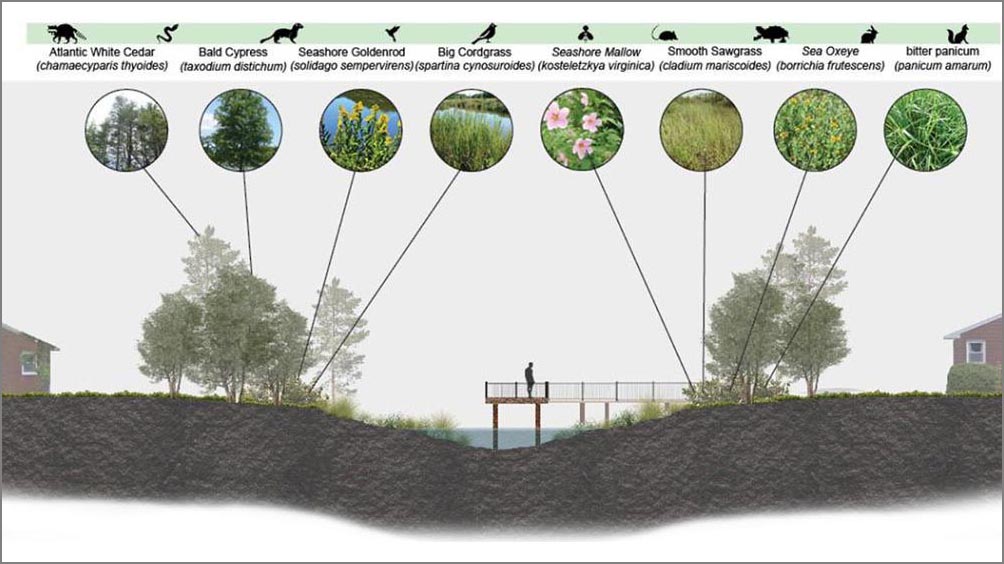 The competition site of Hampton posed a range of historic social and ecological issues, in addition to contending with a sea level rise severe enough that some streets are regularly flooded during high tides. According to Stempel, the diversity of these issues necessitated a multi-disciplinary approach. The design of the studio allowed for students outside of landscape architecture to be involved. A civil engineering student participated in the studio, in addition to three landscape architecture graduate students.
The Penn State team also included historians, who played an integral role in the development of the resilience plan by supporting the students' investigation and interpretation of history. According to Stempel, public memory is not a reliable source for a region's history because it often omits unpleasant aspects of the past.
The historians, Michael Thurston and Alanna Casey, were able to provide this insight for the team. Thurston focused on the history of the region's canals and the nearby Great Dismal Swamp, while Casey focused on how history has been interpreted differently at different times.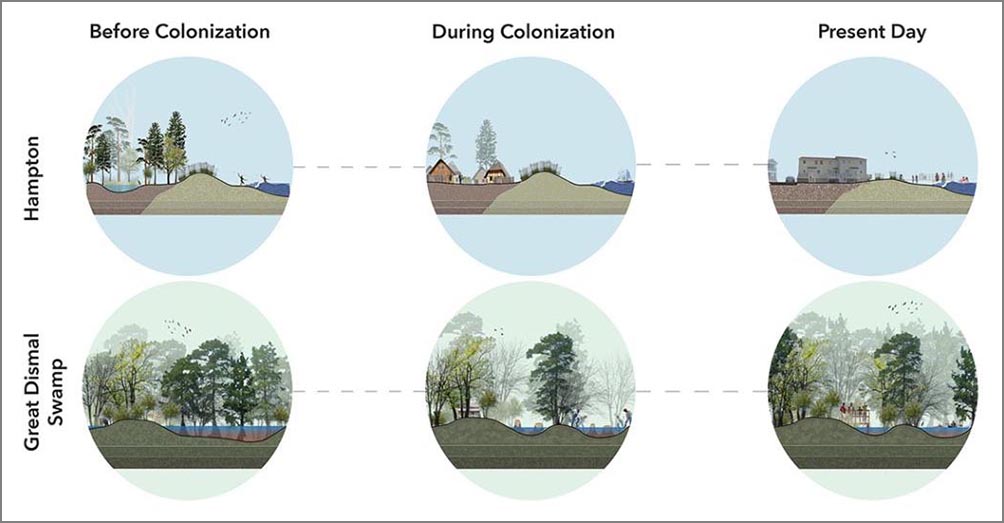 This approach, according to Stempel, allowed for a better understanding of how Hampton, and the team's understanding of Hampton, evolved over time. Casey and Thurston's involvement was funded through a Racial Justice, Anti-Discrimination and Democratic Practices Grant from the College of Arts and Architecture.
"If you, as a designer, show up to a site, and say 'What do I need to know about the past?' You're not going to hear everything that you might need to know, especially if you want to address equity and justice," Stempel said. "Many important aspects of the past are only now coming to light with recent scholarship."
The project was presented to competition judges at the 2021 CERF virtual conference by recent landscape architecture alumna Madison Borsos and landscape architecture graduate student Alex Keim, and supported by civil engineering doctoral candidate Selena Hinojos, who constructed a social and coastal vulnerability index as part of the project. These individuals represented all 15 students from the spring 2021 studio.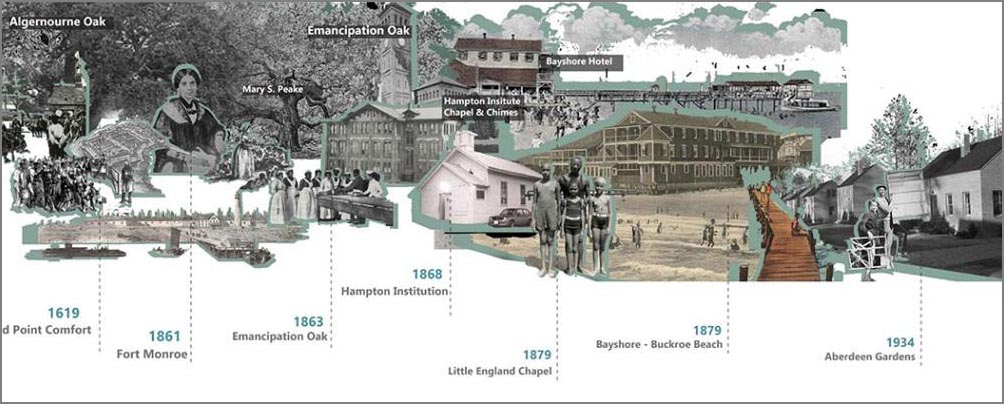 According to Stempel, the competition site posed unique challenges to students because of the rising sea levels. The resilience strategies that students were familiar with — such as rain gardens — didn't work as well in the Hampton environment due to the high water table at the site, so students had to create a flexible plan that could adapt to change.
"What's different about resilience planning than, say, a design problem that people might be familiar with, is that you have to contend with uncertainty and the fact that the future might not unfold exactly the way you intend. We made our plan to be resilient to uncertainty and change," Stempel said.
The competition entry centered around how equity and justice can be better considered in resilience planning. Students were able to understand the intersection of ecology and culture to create a resiliency plan that addressed both environmental change and social equity. The project allowed students to examine a real-world scenario and discover how their work can impact change.
"Our project is really uniquely framed around this question of 'How does understanding the social and ecological history of a place help us address justice and equity?'" explained Stempel. "The students did a very open-ended exploration to help make our competition entry really unique and, ultimately, successful."
MEDIA CONTACT:
College of Engineering Media Relations