Mechanical engineer selected for distinguished nuclear energy program
July 25, 2022
By Mary Fetzer
UNIVERSITY PARK, Pa. — Amrita Basak, assistant professor of mechanical engineering in the Penn State College of Engineering, earned a five-year, $625,000 Department of Energy (DOE) 2022 Distinguished Early Career Program award. She will use the grant to develop advanced process models for metal additive manufacturing (AM) and enable more rapid implementation of AM techniques. 
The Distinguished Early Career Program supports "extraordinary faculty members as they embark on lifetimes of transformative research, education and leadership aligned with the Office of Nuclear Energy mission," according to the DOE Office of Nuclear Energy's press release. The program provides support for awardees to establish careers as outstanding researchers and educators who will train the next generation of nuclear energy professionals.  
Basak's project aims to create and validate modeling tools using artificial intelligence and machine learning to facilitate the process development for wire- and powder-directed energy deposition, as well as laser powder bed fusion manufacturing.  
Laser-directed energy deposition (L-DED) is an AM process that uses a laser beam to melt a feedstock material that is simultaneously deposited by a nozzle. The material can be either powder or wire. Laser-powder bed fusion (L-PBF) involves fusing thin layers of very fine powders using a laser beam. 
"L-DED and L-PBF are relevant to the Office of Nuclear Energy's (DoE-NE's) mission because of the portfolio of products the DoE-NE caters to," Basak said. "For example, L-PBF would be ideal to fabricate heat exchanges with intricate channels, while laser-wire DED would be the economical choice for building large parts, such as pressure vessels. For repairing legacy components or to fabricate functionally graded parts, laser-powder DED could be used."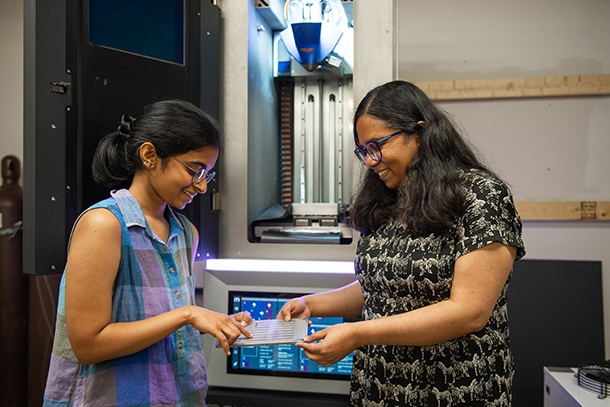 When Basak joined Penn State in 2019, her primary research goal was to do experimental work in metal additive manufacturing. The COVID-19 shutdown and subsequent social distancing guidelines impacted the way Basak conducted her research.  
"Metal additive manufacturing research requires equipment and a village of people that one potentially cannot avail or operate or conduct when having to maintain a six-foot distance," Basak said. "The initial days were challenging, and everything had to be started from scratch. Our lab became more involved in computational modeling and data science research, and this grant is a direct result of those efforts." 
Basak's lab will investigate the possibility of developing a framework that can accommodate many materials, manufacturing processes and equipment of interest to get specific properties, such as strength or hardness. 
"Manufacturing is like cooking," Basak said. "You need to determine the perfect recipe to get the desired results. Our framework will help to eliminate the need to create too many recipes." 
The unique technical outcome of this research is to develop a universal approach to link different manufacturing methods and materials that are of interest to the nuclear community, and which ultimately could speed up the process development of new materials, according to Basak. 
"While we are targeting materials that are of interest to the nuclear engineering community in this proposal, the framework can be basically applied to any material systems or manufacturing systems," she said. 
The highly multidisciplinary nature of this research offers unique opportunities for training the next generation of students at the cross-roads of additive manufacturing, materials engineering and artificial intelligence with a focus on nuclear engineering-related structural materials. Basak anticipates involving both graduate and undergraduate students in this research. She will also mentor them to develop their leadership skills.
MEDIA CONTACT:
College of Engineering Media Relations