Penn State one of only two U.S. universities with two UNESCO chairs
October 24, 2022
By Nathan Rufo
Editor's note: This article originally appeared on Penn State News. Osama Awadelkarim, professor of engineering science and mechanics and the director of the Center for Nanotechnology Education and Utilization in the College of Engineering (CNEU), is featured.
UNIVERSITY PARK, Pa. — Being named a UNESCO chair is prestigious and impactful, and it is rare that two chairs are appointed at one institution. Penn State holds the honor of being one of two universities in the United States, along with Universidad de Puerto Rico, that is home to two UNESCO chairs.
The United Nations Educational, Scientific and Cultural Organization (UNESCO) "seeks to build peace through international cooperation in education, sciences and culture," according to the organization's website. It focuses on providing real and impactful opportunities for engagement and development in the areas of education, science and culture to its 193 member countries.
Osama Awadelkarim, professor of engineering science and mechanics and director of the Center for Nanotechnology Education and Utilization (CNEU) holds the title of UNESCO Chair on Building Innovation and Manufacturing Capacities Through Advanced Technology Education.
A university-based UNESCO chair partners with UNESCO to advance knowledge and practice in an area that is a priority for both organizations. The status provides opportunities to educators and researchers for connections, funding and program support from UNESCO to create and implement programs on an international level, supporting research that creates impact on a broad scale in a short amount of time.
The UNESCO Chair on Building Innovation and Manufacturing Capacities Through Advanced Technology Education is focused on hard sciences and engineering ¾ specifically, nanotechnology.
"Nanotechnology is now the basis for all technological advancement," Awadelkarim said. "Everything from your phone and your refrigerator to the diagnosis and treatment of many diseases — it is all nanotechnology."
Awadelkarim spent many years working for the State Department internationally, doing outreach for scientists and researchers. In 2006, he was named a Jefferson Science Fellow.
"Since 2006, when I joined the State Department, I've been involved in educational collaborations," Awadelkarim said. "I helped faculty and institutions in the Middle East and North Africa, and I always promoted technological curriculum, especially around nanotechnology."
The connections he made through this work led to his working with UNESCO and eventually applying for and receiving a UNESCO chair title in 2018. The chair's focus is enhancing scientific research and advancing technological capabilities within the workforce and industrial sectors of UNESCO member countries. This is achieved primarily through the development of education curriculum, materials and workshops that are provided to various institutions. Awadelkarim works closely with the regional UNESCO office in Cairo and has provided materials to undergraduates in Saudi Arabia, the United Arab Emirates and many other Gulf countries in the Middle East and North Africa.
Nanotechnology education is at the forefront of these efforts. These can be seen through initiatives such as the Nanotechnology Applications and Career Knowledge Network, which provides resources both in the U.S. and abroad; summer school programs offered through the chair; and various virtual webinars.
In one program, Penn State's CNEU leads a network of 28 labs across the U.S. and provides remote access sessions to nanotechnology equipment to enable researchers within and outside the U.S. to see it in action. More than 500 sessions have been held, and more than 11,000 people have attended.
CNEU also provides in-person and web-based live-streamed nanotechnology professional development workshops for educators and incumbent nanomanufacturing industry engineers and technicians. Several of these workshops were attended by participants from Africa, Europe, the Middle East and South America.
Awadelkarim involves the University in these efforts heavily, inviting students from abroad to attend Penn State for a semester or two to learn more about nanotechnology; working with African institutions on a way for students to study nanotechnology at Penn State; and giving professional development opportunities to researchers outside Penn State.
Awadelkarim recognizes that different countries are at different stages of development and not all may have the infrastructure for nanotechnology right now.
"In this case, we do our best to introduce the concepts of nanotechnology to students and give them whatever limited access we can to our equipment," he said. "We try to share the wealth of knowledge that we have and then hope that down the line, when tech becomes cheaper, they will have the workforce to try to implement the technology. Education is the most important piece."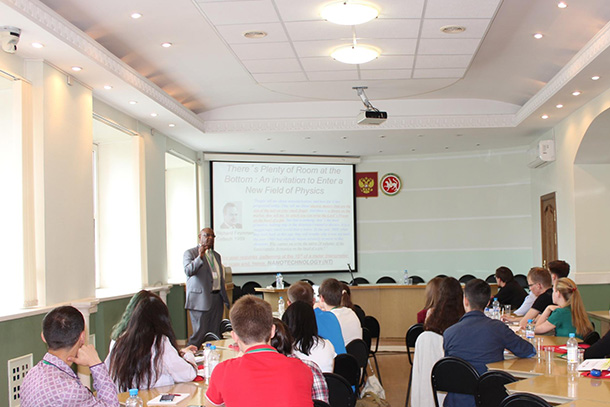 Awadelkarim recently served as an expert witness on semiconductor manufacturing in the U.S. by the House of Representatives and hopes to continue to spread the word about the importance of these materials.
UNESCO chairs are awarded for four years, with the possibility of renewal if both sides are still interested and engaged. Awadelkarim's chair has just been renewed and will last through at least 2026. Penn State's other UNESCO chair is Mark Brennan, professor of leadership and community development and director of graduate studies for education, development and community engagement in the College of Agricultural Sciences, whose term will come up for renewal in 2024.
MEDIA CONTACT:
College of Engineering Media Relations