Autonomous Robotics Competition Club earns $130,000 in drone challenge
The Penn State student club places second year in a row
October 6, 2022
By Mariah Chuprinski
UNIVERSITY PARK, Pa. — A team of Penn State aerospace engineering graduate students placed in all three events in the 2021 First Responder UAS Triple Challenge, a drone design competition hosted by the National Institute of Standards and Technology and sponsored by the United States Department of Commerce. The challenge spanned a year and concluded on July 1, when the Penn State Autonomous Robotics Competition Club (ARCC) ranked in the top three of all university and industry teams, taking home $130,000 in prize money.
ARCC members Vitor Valente, Vidullan Surendran, Rachel Axten and Venkatakrishnan Iyer, all doctoral students in aerospace engineering at Penn State, participated in the three events, which took place near Mississippi State University in Starkville. They were tasked with demonstrating how unmanned aerial vehicles, or drones, can be leveraged to find missing persons; improve first responder communications in remote areas; and wield countermeasures against cybersecurity threats.
"Competing in the challenge provided us with an opportunity to engage in different aspects that are not covered under our usual research activities," Iyer said. "The idea behind the challenge was to promote drone technology for use by first responders. We are hopeful that our participation will help advance this technology."
In the first event, teams used drones to search for and identify simulated lost persons in wooded areas. ARCC took second place for their solution, which used a trained object detection algorithm that combined RBG and thermal camera feeds to identify clothing and body heat, as well as geo-tagged images for further analysis and identification after a flight.
In the second event, teams were tasked to set up a local Wi-Fi connection in rural areas with limited cell phone service using network devices carried by drones. ARCC won first place and the First Responder's Choice Award for their design of an AyrMesh hub that can transmit internet protocol-based data to multiple first responder groups to disseminate voice communications, images and videos with download speeds of 10 megabytes per second to nearby devices.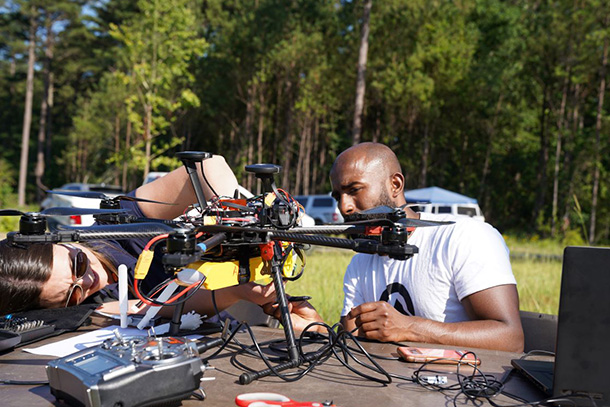 "Each of the challenges included regular check-ins with the organizers, which was helpful in developing the final product," Axten said. "However, the live flyoffs for the first and second challenges were particularly valuable as an opportunity to directly interact with first responders and other teams. These interactions helped us better understand how first responders typically use drones in the field and will help inform our future competition work."
In the third event, teams developed countermeasures to battle common drone cybersecurity threats, particularly concerning navigation and flight control. ARCC, one of three equal winners of the event, added a visual inertial odometry position data sensor to their drone as a countermeasure to an attack on a drone's in-flight GPS system.
ARCC members said the prize money will help fund future research endeavors for the team including the cost of equipment and travel for future competitions.
"ARCC is a great way to get your hands on hardware and work in a team of other undergraduate and graduate students!" Axten said. "This team continues to be a great way to meet other people in the industry and build skills as an engineer and drone pilot."
The team is currently working on this year's First Responder UAS Challenge and welcomes new undergraduate and graduate student members from all engineering disciplines. 
MEDIA CONTACT:
College of Engineering Media Relations