Facilities Engineering Institute charges forward with a more sustainable fleet
4/19/2021
By Danica Laub
UNIVERSITY PARK, Pa. — White paint, blue license plates and departmental fuel cards are synonymous with Penn State fleet vehicles. Over the next few years, Penn State Facilities Engineering Institute (PSFEI) staff hope terms like electric vehicle (EV) charging stations and miles per gallon of gasoline-equivalent (MPGe) will also become commonplace within Penn State Fleet Operations.
As one of the first University units to participate in the EV fleet pilot program at University Park, PSFEI recently added four hybrid electric vehicles (HEV) to its vehicle fleet for fiscal year 2020-21 and beyond. PSFEI's more sustainable fleet now includes two plug-in hybrid electric vehicles (PHEV) — a Toyota Prius Prime and Ford Fusion Plug-in Hybrid Titanium — plus a Toyota RAV4 hybrid and Ford Explorer Police Interceptor hybrid. The new HEVs and PHEVs replaced gas-powered vehicles — a Chevrolet Impala, Ford Explorer and two Ford Fusions.
"Although full EVs would obviously be ideal, we cannot wait for the infrastructure component to be in place before we act," said Adam Reed, PSFEI facilities condition assessment team leader. "The significance of adding regenerative hybrids — even though they have existed for years — is to reduce our use of fossil fuels. We are hoping to be able to track how much less gasoline our staff uses and how much carbon has not been sent into our atmosphere."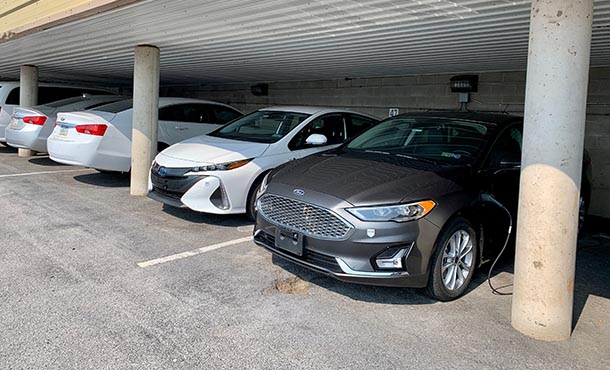 Reed and Mark Garlicki, PSFEI water systems engineer, have been driving forces behind PSFEI's sustainability initiatives in recent years. Through conversations with Penn State Sustainability Institute staff, Garlicki and Reed learned that Fleet Operations wanted to compare some PHEVs and EVs with all gas-powered vehicles. Garlicki and Reed jumped at the opportunity, researched various options and presented their findings to PSFEI leadership.
"As a group, we elected not to jump into a pure electric EV option yet for a number of reasons," Garlicki said. "We don't have access to a level 2 charger — a 240-volt power source — at our home base, and there is still a certain amount of battery range anxiety. We want to reliably get to our destinations and back on one fully charged battery at the start. Charging on the road presents some logistical challenges, but also takes time away from the workday, so we don't want to take that risk at this moment."
While the PHEVs are recharged upon return to Fleet Operations, each vehicle is equipped with a ChargePoint card, giving access to EV charging at any station on the ChargePoint network. In addition, drivers have access to charging through roaming integrations with ChargePoint and other major networks. ChargePoint currently has more than 100,000 activated public charging stations in the United States, and more than 1,200 located within Pennsylvania, according to ChargePoint. On the University Park campus, EV drivers may plug in at the Nittany Parking Deck — where a total of five ChargePoint stations are available — or the Penn Stater Hotel & Conference Center, which currently has four.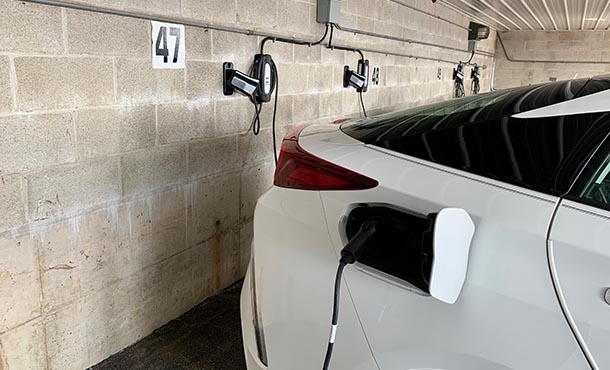 "We're thrilled to have PSFEI working with us on this project," said Amber Quimby, Penn State fleet vehicle manager. "We have a lot of employees across the University who utilize Fleet Operations, so we'll be getting feedback on a larger scale, but data from a large group like PSFEI will be very helpful."
According to administrative mileage logs, PSFEI staff drive an average of 136,000 miles a year behind the wheels of fleet vehicles — traveling for site visits, client meetings and conferences. One of PSFEI's most-traveled staff members — W. Carey Ohl, a mechanical engineer assigned to the Pennsylvania Department of Transportation — has already experienced significant fuel savings since the RAV4 hybrid was added to the fleet in December 2020.
"I've driven about 10,000 miles in the RAV4 hybrid," Ohl said. "I'm averaging more than 36 miles per gallon (MPG). My previous fleet vehicles were Ford Fusions, which averaged 30 to 33 MPG. I'm impressed with the improvement I've seen with the RAV4 hybrid, because we're comparing an all-wheel-drive sport utility vehicle with a small sedan."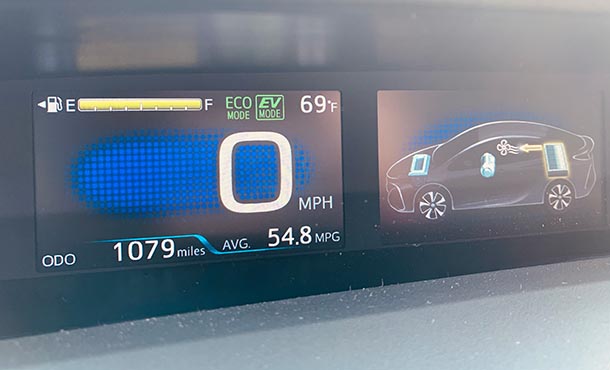 According to Quimby, adding more EVs to the fleet would depend on departmental needs and requests, but Fleet Operations does not currently plan to expand the general vehicle fleet quite yet.
"We want to understand the ins and outs of owning an EV," Quimby said. "There are different costs associated with EVs with which we are not familiar. This pilot program is a great way for us to gather some information before we dive into potentially transitioning to more EV options."
In addition to PSFEI's four dedicated vehicles, Fleet Operations has added 14 HEVs and one additional PHEV — a Honda Clarity, currently in use at Shaver's Creek Environmental Center — to the University Park fleet. The pilot program is examining the typical travel parameters including cost of gas, electricity and maintenance, as well as fuel efficiency, to determine if an EV fleet is practical. Fleet Operations plans to track and evaluate usage and costs through the end of fiscal year 2022.
Penn State Fleet Operations offers a variety of programs and services that make it easier for University employees to get to and around campus. The department provides a full range of vehicle services to the University community, including daily and long-term vehicle rental, as well as chauffeur and driver services with a bus, campus shuttle or trolley.
The Penn State Facilities Engineering Institute provides education programs, energy services, engineering services and facility condition assessments to Pennsylvania state agencies, the federal government and nonprofit organizations. The organization aims to advance its customers' facilities engineering objectives through applied research, education and innovation.
MEDIA CONTACT:
Megan Lakatos