Two student teams awarded $25,000 for using artificial intelligence for good
InsectEye and AI-powered Recycling win 2021 Nittany AI Challenge
9/30/2021
UNIVERSITY PARK, Pa. — A panel of judges named InsectEye and AI-powered Recycling the winning teams in the 2021 Nittany AI Challenge. The announcement was made during the AI for Good Expo on Sept. 28. InsectEye will receive $15,000 and AIPR will receive $10,000 in funding to continue moving their solutions forward. They were selected out of 20 other teams that created prototypes throughout the course of the eight-month challenge.
InsectEye
InsectEye is a nonlethal, AI-based insect trap and identification system currently being utilized in the Pollinator Garden at the Arboretum at Penn State. It is designed to assist entomologists in understanding insect biodiversity. InsectEye team members include Codey Mathis from the College of Agricultural Sciences, and, from the College of Engineering, Viet Pham, Zeinab Hakimi, Eric Homan, Nelson D. Troncoso Aldas and Chonghan Lee. Viet Pham, team lead for InsectEye, said the team would like to use the funds to further improve upon InsectEye capabilities including collecting user feedback to correct misclassified insects, better quality cameras and materials.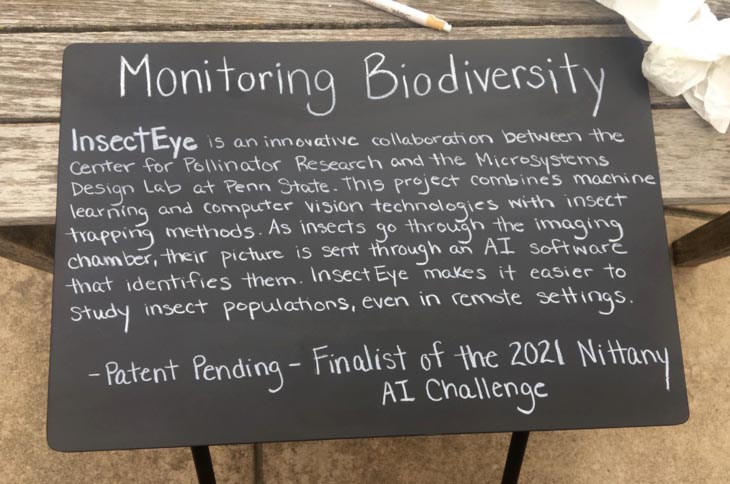 "Insects play an important role in our environment: as the basis for many food webs, ecosystem engineers, and as the pollinators to more than 75% of crop plants," Pham said. "Entomologists agree that insect biodiversity decline is a global crisis, and it is imperative to analyze this trend by increasing insect biodiversity monitoring efforts. Traditional methods are time consuming. Hence, the inspiration for InsectEye comes from a desire to facilitate and revolutionize the process to make it nonlethal and time efficient."
AI-powered Recycling
AI-powered Recycling is a solution aimed to limit contamination among recycled materials by automating the sorting of recyclables using machine learning. The goal is to make recycling more efficient and economical through a mobile app and trash-sorting robot. Team members include Patrick Elisii, Avi Bewtra, Alex Baptista and Matthew So from the College of Engineering and Erica DiCarlo from the Smeal College of Business. Team Lead Patrick Elisii said the model has been trained using a data-centric AI-pipeline and more than 30,000 images to classify waste as paper, plastic, miscellaneous plastic, glass, metal or trash.
"The mobile app is intended to incentivize users to recycle, make it more engaging, and connect them to other recyclers in their community. Users can classify their recyclables and learn more about their waste and how to recycle it. Every 30 items recycled earns them a discount to a sustainable brand," Elisii said. "The trash-sorting robot automates the sorting process, making recycling as easy as throwing away the trash. We will use the funding to further develop it with a goal to launch at the HUB on the Penn State University Park campus."
Nittany AI Challenge
Brad Zdenek, innovation strategist for the Nittany AI Alliance, said hundreds of students from across the University, including from the Commonwealth Campuses and Penn State World Campus, submitted ideas in January, and 20 of those ideas were chosen for the 2021 Challenge.
"Many students first join us throughout the academic year for ideations, presentations, and technical workshops that inspire and motivate. Many others began talking with their professors and mentors, exploring the possibilities and boundaries of what is possible," Zdenek said. "Despite its name, the Nittany AI Challenge is not strictly a technology challenge. The most successful teams are often individuals with varying backgrounds and skillsets, as many students from the Smeal College of Business, as from IST, from Arts and Architecture as from Engineering. Teams don't just develop, they design, they communicate, they pitch, and they manage the potential chaos that any team effort can pose."
Daren Coudriet, director for the Nittany AI Alliance, said supporting students throughout their AI journey is key.
"These winning teams reflect what is possible when a student's AI journey success is enabled and then measured by the impact that AI for good can have upon the Penn State community, the commonwealth and the world."
Sponsors of the 2021 Nittany AI Challenge include IBM Watson, Microsoft, Leidos and Amazon Web Services. Teams described how they used the technology in their solutions here.
MEDIA CONTACT:
College of Engineering Media Relations