Nuclear engineering alumni aim to connect past and future with naming gift
6/7/2021
By Gabrielle Stewart
UNIVERSITY PARK, Pa. — One plus one equals two. But one plus one can equal three when a whole is made greater than the sum of its parts by a powerful factor — a force multiplier.
This concept motivated Penn State College of Engineering alumni Pat Loftus and Douglas Wood to collaborate on a contribution for the Nuclear Innovation Commons (NIC), a 5,000-square-foot nuclear engineering collaborative space under construction in Hallowell Building. Their gift will name the space's east lobby "Nuclear Innovation Commons Gateway: Honoring Penn State Nuclear Trailblazers, Innovators, and Friends."
"The combination of positive outcomes from our shared nuclear engineering experience was the force multiplier that made this happen," Loftus said.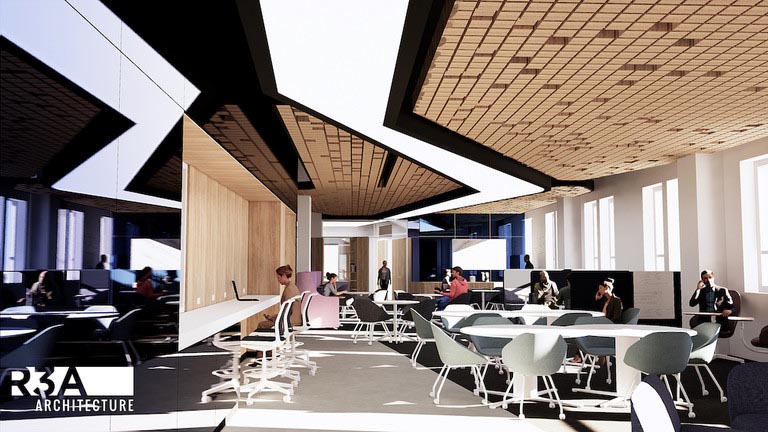 Loftus earned her bachelor of science in nuclear engineering from Penn State in 1975. Upon completion of her master of science in nuclear science and engineering from Carnegie Mellon University and her master of business administration from the University of Pittsburgh, Loftus went on to advance through numerous consulting and leadership positions at Westinghouse Electric Company, Northeast Utilities, Exelon and entrepreneurial organizations.
Wood received his bachelor of science in nuclear engineering from Penn State in 1973. After graduating with his master of science in nuclear engineering from the University of Michigan, Wood worked at Bechtel Corporation and Westinghouse before co-founding the nuclear consulting company Advent Engineering.
The donors, longtime friends who are both recipients of the Outstanding Engineering Alumni Award and past presidents of the Penn State Nuclear Engineering Society, aimed to create a name reflective of the impact their nuclear engineering mentors made.
"We have a few trailblazers in common whom we respect a great deal," Loftus said. "These larger-than-life individuals shaped the industries and communities they served intellectually and socially. They really influenced what we'd become professionally and come to value personally."
These include:
Nunzio Palladino, dean emeritus of the College of Engineering and founding department head, who died in 1999
Warren Witzig, adviser to Wood, and former nuclear engineering professor and department head, who died in 2007
Lawrence "Larry" Hochreiter, former professor of nuclear and mechanical engineering, who died in 2008
Edward Klevans, former department head and professor emeritus of nuclear engineering, adviser to Loftus
Jack Brenizer, nuclear engineering doctoral alumnus, professor emeritus of nuclear engineering and former chair of the nuclear engineering program
The name also honors nuclear engineering community members who have contributed to the field through avenues such as philanthropy and student support, such as Ken and Mary Alice Lindquist, according to the donors.
"We have a vision to be one of the most innovative, diverse and inclusive nuclear engineering departments in the country. This gift resonates with this vision and is a terrific example to catalyze engagement with our NIC," said Jean Paul Allain, department head. "It marks the gateway to celebrate the incredible legacy of nuclear at Penn State."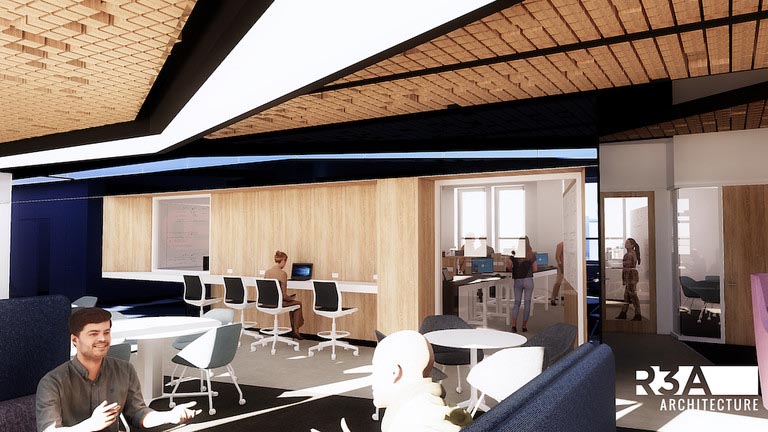 Visitors to the NIC will pass through the gateway at the east entrance. This location symbolizes the connection between the Ken and Mary Alice Lindquist Department of Nuclear Engineering and the Breazeale Nuclear Reactor on the east side of the University Park campus where the donors researched as undergraduates.
"We have shared really phenomenal lab experiences in Breazeale," she said. "We got to see the power of the atom — to live it."
The donors, longtime supporters of Penn State nuclear engineering, plan for their gift to also celebrate upcoming nuclear engineering advocates.
"As new trailblazers, innovators and friends emerge in future generations and make a difference for nuclear engineering, we can honor them as well," Wood said. "We want this to be welcoming and inclusive in perpetuity."
This gift will advance "A Greater Penn State for 21st Century Excellence," a focused campaign that seeks to elevate Penn State's position as a leading public university in a world defined by rapid change and global connections. With the support of alumni and friends, "A Greater Penn State" seeks to fulfill the three key imperatives of a 21st-century public university: keeping the doors to higher education open to hardworking students regardless of financial well-being; creating transformative experiences that go beyond the classroom; and impacting the world by serving communities and fueling discovery, innovation and entrepreneurship. To learn more about "A Greater Penn State for 21st Century Excellence," visit greaterpennstate.psu.edu.
MEDIA CONTACT:
College of Engineering Media Relations