Virtual Iron Lion Design Challenge opens a new world of design possibilities
11/22/2021
By Samantha Chavanic
UNIVERSITY PARK, Pa. — Run for years as an in-person event for Penn State graduate and undergraduate students to dust off their design skills during the summer, the Iron Lion Design Challenge is a multidisciplinary design competition sponsored by the Bernard M. Gordon Learning Factory. In a time defined by online events, Iron Lion Challenge organizers pivoted from the traditional in-person design contest this year, viewing the event as a chance to host a virtual three-day hackathon reaching beyond Penn State's University Park campus.
With an open design prompt — make something that solves a problem for someone, somewhere — students at universities from around the world were invited to join the 2021 Virtual Iron Lion Design Challenge. Each registered participant received a Makey Makey prototyping kit in the mail, but all other design resources were left up to the participants. Jessica Menold, Hartz Family Career Assistant Professor of Engineering Design and Mechanical Engineering and associate director of outreach and inclusion for the Learning Factory, said this openness was intentional to encourage imagination and invention.
"We wanted to see where they took it and what they made," Menold said. "We gave them this product that's really wild to prototype with and isn't immediately obvious what you would even build with it. We just wanted to see what they would come up with. Especially with the pandemic where it just feels like work and home life have merged and you're just working all the time now, we wanted to say, 'this isn't work — it should be fun, so please have fun with it.'"
During the first two days of the hackathon, participants heard from guest speakers from the University of California, Berkeley, and the University of Minnesota. Penn State Engineering Design faculty also hosted design thinking workshops highlighting the importance of pitching products and how to design one's life. On the third day of the hackathon, Iron Lion Design Challenge teams and individual participants pitched their final designs to a panel of judges, including Penn State's Nick Meisel, associate director of engineering design graduate programs and assistant professor of engineering design; Sarah Ritter, associate director of engineering design undergraduate programs and associate teaching professor of engineering design; and Jared Butler, student engagement coordinator and assistant professor of engineering design.
By opening the challenge up to students outside of Penn State, Sierra Hicks, engineering design graduate student and Iron Lion Design Challenge event coordinator, explained how all participants were exposed to new ideas and gained insight into the world of design.
"It's fantastically useful to discuss design thinking and methodologies with folks who have different approaches, which you'll no doubt find when mingling students from other design and engineering programs," said Hicks. "Who knows, you might just pick up tips to benefit your own work."
Menold echoed how important it is for students to network and connect with those inside and outside of their programs and universities, something she and Hicks realized students are missing during the pandemic.
"We wanted to give students the opportunity to form peer-to-peer relationships in a more authentic way as opposed to another online seminar," she said. "We thought maybe giving them something to work on would be a great way to form those bonds and help them expand their networks beyond what they know."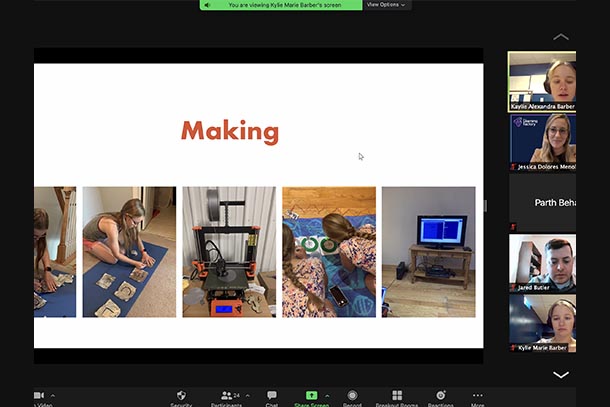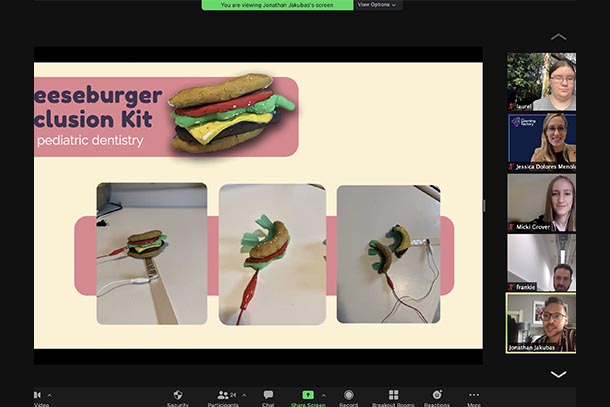 According to Menold, the 35 participants accomplished this and more through engagement in the event, developing unique design solutions to everyday problems. Projects stretched across disciplines, embodying creativity and fun. Highlights include gloves that can detect if an avocado is ripe or not, children's books for the visually impaired, a spelling and grammar game for children with attention deficit hyperactivity disorder, and a plant water-level tracking device with a spirited attitude. Prizes, including Amazon gift cards, trophies and 3D-printing pens, were awarded to the "iron lion," the best solution to the challenge; the "craziest idea," the most creative, wild design; and "best pitch," the best product pitch delivery.
"One reason we decided to host the event and leave the prompt open-ended is because students, especially graduate students, seem to lack the opportunity to access their playful and creative sides," Hicks said. "As a talented group of designers, what they came up with given this freedom and space was inspiring."
Organizers will explore hybrid options for future Iron Lion Design Challenge events to continue to encourage worldwide participation, while offering hands-on experiences and engagement at the Learning Factory.
MEDIA CONTACT:
College of Engineering Media Relations