Advice from many at Penn State led new engineering alumna to fellowship success
9/20/2021
By Tim Schley
UNIVERSITY PARK, Pa. — In her undergraduate career at Penn State, Autumn Deitrick had both an eye on the future and an ear open for advice.
"I have always benefited from a having a plan and talking to successful people who have already figured it out and can share their wisdom," said Deitrick, who graduated with honors in May with a bachelor's degree in civil engineering as a Schreyer Honors College Scholar.
Thanks to a National Science Foundation Graduate Research Fellowship (NSF GRFP), Deitrick is now pursuing a doctoral degree in applied ocean science and engineering in the Massachusetts Institute of Technology (MIT)-Woods Hole Oceanographic Institution Joint Program. There, she is investigating how mangroves and other coastal vegetation can be used to help mitigate climate change and protect coastal infrastructure.
"I try to remind myself to live in the moment, but I am always thinking about the future and what I hope to accomplish in the world," Deitrick said. "Then, I take a few steps back and ask, 'How do I get there?'"
According to Deitrick, the planning for that fellowship began years ago when she read a story about then-Penn State undergraduate Taylor Baum, a double-major in electrical engineering and biology. Baum had just been awarded a Goldwater Scholarship, and Deitrick was inspired, so she reached out to Baum for advice.
"I just thought she was so cool," Deitrick said. "I saw that she had won the Goldwater Scholarship and later would go on to win an NSF GRFP and thought that was something I could pursue. I could carve my own path but also learn what worked for someone else."
Deitrick's path first guided her to the Environmental Fluid Dynamics Group, led by Xiaofeng Liu, associate professor of civil and environmental engineering. With Liu's guidance, Deitrick worked on her own research project, "Optimizing the Weir Equation for Nature-Like Fish Passages," which examined the geometry of rock weirs used to construct nature-like fish passages.
This work helped cement her own candidacy for the Goldwater Scholarship, which she received in 2020 after applying a second time.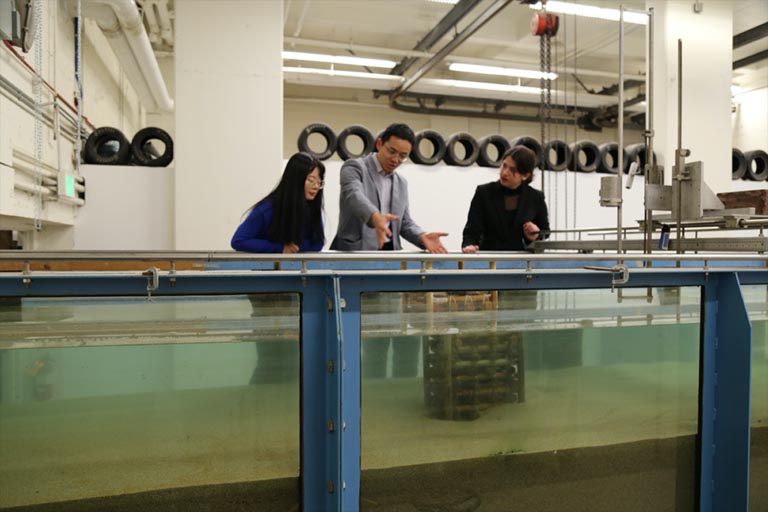 "I was not selected for University nomination for the scholarship that first year, so I asked myself how I could better prepare for next year," she said.
Deitrick wrote and revised the essays for her second application many times, often consulting with Caitlin Ting, director of Penn State's Undergraduate Research and Fellowships Mentoring Office (URFM). Deitrick said these consultations with Ting — along with an extra year of research experience with Liu — gave her the confidence and skill set to assemble a competitive application, not only for the Goldwater Scholarship but also for the NSF GRFP.
"It is really hard to put forward a competitive application without guidance," she said. "Between my research advisers, URFM and other students, I have had a lot of help."
Wanting to share some of her experiences with others, Deitrick also started mentoring two Penn State first-year women majoring in civil engineering through the Schreyer Honors College's Career Development Peer Mentorship program. With URFM, she also helped start the Undergraduate Research Ambassadors program, which connects peer undergraduate researchers with other Penn State students to help them navigate their research paths.
"I remember what it was like trying to get involved in undergraduate research during my first year," she said. "Now that I have gone through the process, I can provide guidance to others."
Deitrick crafted her NSF GRFP research proposal to study how seagrass meadows trap carbon-rich sediment, a topic she researched as an MIT Summer Research Program intern.
Deitrick noted that she started the proposal many months before the October deadline to give herself plenty of time to prepare for the competitive fellowship.
"I think starting early really contributed to my success," she said. "There are a lot of qualified applicants that do not get picked, so I tried to put forward the strongest application possible. The goal is for them to read it and say, 'Yes, this is the kind of student that will succeed in research and be a great mentor.'"
Upon receiving her doctorate, Deitrick plans to become a professor to educate others and continue her research of coastal ecosystems.
"Being a professor seems like a great fit for me," she said. "I have always loved teaching, and I love research. When that clicked for me, it was all over. I began tirelessly pursuing it."
Undergraduate students who are interested in learning about undergraduate research and the fellowships mentioned in this story are encouraged to schedule an appointment with the URFM or contact them with questions. Penn State engineering students also may contact the Center for Engineering Outreach and Inclusion to learn about engineering-specific opportunities.
MEDIA CONTACT:
College of Engineering Media Relations