Penn State team earns second place in international entrepreneurship competition
8/4/2021
UNIVERSITY PARK, Pa. — A team composed of Penn State students and partners from other universities recently claimed second place in the Creating Shared Value Challenge, an international competition which invited student teams from around the world to pitch business ideas that promised to advance social good. The competition was sponsored by the Bengis Center for Entrepreneurship & Innovation at Ben-Gurion University in Israel.
The startup which placed second, 42MORO Co, pitched an idea for a sensor that would help small-scale greenhouse farmers in developing countries to increase their yield and profits. First place went to a team of two students from Ben-Gurion University whose startup, HearPods, pitched headphones for hearing-aid users.
This was the second consecutive year Penn State students have participated in The Challenge, which began in 2018 and has been held virtually in 2020 and 2021. The purpose of the competition, according to the organizers, is to advance entrepreneurship education for students around the world by asking students to apply their knowledge and skills to real-world challenges.
This year's competition, which garnered applications from 348 student teams from nine countries, asked participants to pitch business ideas that promise to Create Shared Value. Create Shared Value, according to The Challenge website, is "a broad economic theory that suggests … by actively improving society, businesses increase their own competitiveness." Participants were asked to either pitch an idea for a startup that would consider "people, planet and profit" and advance at least one of the Sustainable Development Goals established by the United Nations or to issue a recommendation to an existing business that would improve the company's sustainability.
"This year's challenge was all about the opportunities presented by the pandemic, which has created both enormous challenges and tremendous opportunity to effect social good," said Yosef Shavit, director of the Bengis Center for Entrepreneurship & Innovation. "We asked students from around the world to create business ideas that will create shared value, and we were inspired by the ingenuity of the entries we received."
The Penn State students who participated in The Challenge had an opportunity to vie for recognition in an internal Penn State competition held in May 2021. The teams presented business ideas under the Creating Shared Value rubric to faculty judges affiliated with the Center for Penn State Student Entrepreneurship. Two teams clinched a joint first place finish and earned $400 cash prizes: ShambaTek, which included Jackson Horigan (Mechanical Engineering), Dane Nicklaus (Engineering Science and Mechanics), Justin DePhillipo (Biomedical Engineering), and Youngsuk Youn (Materials Science and Engineering); and 42MORO Co, which included David Moyer (Computer Science), Eddie Ubri (Computer Science, Math) and Sweetalana Singh (Biological Sciences). The Penn State members of 42MORO Co, together with three additional team members from other universities — Nipun Majumdar from The College of New Jersey and Evans Murei and Johanssen Obanda, both from Egerton University in Kenya — then advanced to the international finals.
The final round of competition took place virtually on July 15 and included presentations from seven student teams. The winners were determined by a panel of four judges who each represented a participating university. Individuals can view a full recording of the final round of competition on Facebook Watch.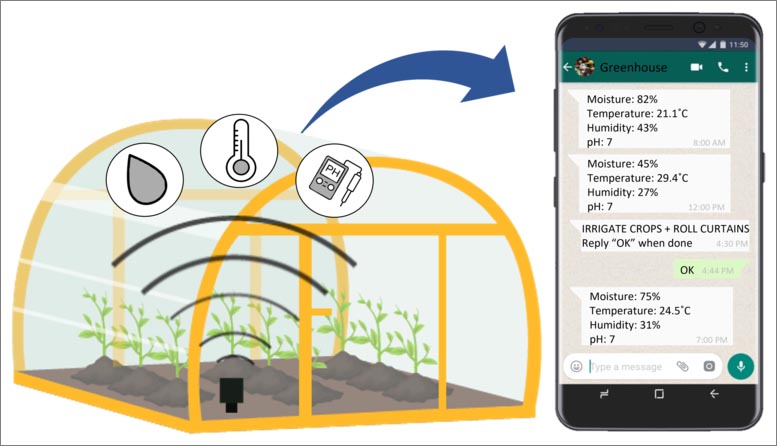 In their presentation, 42MORO Co explained that farmers in developing countries often rely on imprecise guesswork to tend to greenhouse crops, and when crops fail, greenhouses are abandoned, profits are lost and food in the surrounding community becomes scarce. By enabling farmers to optimize growing conditions including temperature, moisture, humidity and pH, their sensor can help these farms to increase their yield and thus benefit the surrounding community. The team drew connections between their product and several UN Sustainable Development goals, including Zero Hunger, Decent Work and Economic Growth, and Gender Equality (since, as they explained, 70 percent of small-scale farmers in the developing world are women).
"We hope to see our technology spread like wildfire in the developing world so farmers can sustain their communities and meet the need to double global food production by 2050," said 42MORO Co team member David Moyer in an interview.
The idea for the product originated in Penn State's Humanitarian Engineering and Social Entrepreneurship (HESE) program, Moyer explained. Through a 2020 HESE course (which took place virtually due to COVID-19), Moyer gained familiarity with the challenges facing farmers in Kenya, and he also met two of the students who would become fellow 42MORO Co team members, Johanssen Obanda and Evans Murei.
The members of 42MORO Co credit various Penn State faculty and entrepreneurship programs, in addition to HESE, for helping them to develop their product, including the Intercollege Minor in Entrepreneurship and Innovation (ENTI Minor), Happy Valley Launchbox, Happy Valley Capital and Penn State Small Business Development Center.
Anne Hoag, who directs the Center for Penn State Student Entrepreneurship and ENTI Minor and who organized Penn State's participation in The Challenge, praised 42MORO Co for their product's potential to achieve social good.
"The student innovators behind 42MORO Co presented a unique and powerful idea for making the world a better place," said Hoag. "The strength of their technology, product and plan lies in their application of the 'creating shared value' mission and problem solving toward specific Sustainable Development Goals. Congratulations to these Penn Staters for bringing home international recognition in the Creating Shared Value Challenge. I can't wait to see what they do next."
Having clinched second place in the Creating Shared Value Challenge, the members of 42MORO Co are not slowing down to celebrate. Next on the horizon for the team is another competition, the Net Impact Food Solutions Accelerator, and creating a prototype for their sensor so they can begin to test it with Kenyan farmers.
"It's good to celebrate, but it's time to step on the gas pedal and keep moving forward with our venture," said Moyer.
The Center for Penn State Student Entrepreneurship is part of Undergraduate Education, the academic administrative unit that provides leadership and coordination for University-wide programs and initiatives in support of undergraduate teaching and learning at Penn State. Learn more about Undergraduate Education at undergrad.psu.edu.
MEDIA CONTACT:
College of Engineering Media Relations